By Judie Brown
An absurdity is something irrational or illogical. Either way, between President Biden and Susan B. Anthony Pro-Life America, there is enough of that to last a while!
April 7 was a banner date for President Joe Biden, the man with a plan to decimate as many preborn babies as possible. No sooner had a district court judge in Texas put a hold on the Food and Drug Administration's approval of the abortion drug mifepristone than the manufacturer of the generic version of the pill sued the Food and Drug Administration in order to maintain access to the pill in question.
But then Biden stepped into the fray. One presumes that his commitment to aborting little ones was so fierce that he simply had to do something. But what the administration did, which turned out to be providential, tells us a great deal. To begin, the obvious fact is that apparently an elected official can tell the Supreme Court justices what to do. But more importantly, the justices listened, though perhaps they had already made up their minds. Who knows?
The bottom line is that the Court decided to protect the availability of the abortion pill by ruling against the state of Texas. However, two justices, Alito and Thomas, dissented from the decision. According to The Hill, Alito courageously said that "there were 'legitimate doubts' that the Biden administration would have followed a court decision that went the other way." And that, my friends, is a fact that some would have meekly chosen not to make public.
Everyone knows that Biden and his cadre of sycophants are definitely in agreement on this one. Speaking for the nation after the decision, Biden said, "The stakes could not be higher for women across America. I will continue to fight politically driven attacks on women's health."
Clearly babies are not on Biden's radar. However, legally protecting the chemical assault weapons that are ingested for the purpose of killing the preborn is so important to him that he defines medical facts and the actual biology of what it means to be pregnant as "politically driven attacks" on expectant mothers.
Welcome to the world of bloodthirsty vipers, otherwise known as the Biden administration. My sense is that when a publication like Rolling Stone runs the headline "The Right-Wing Attack on Abortion Pill-Access Is Not Over," Biden and his buddies are in it to win it. Name calling is always the first choice among those who lack facts to support their position. Absurd!
But sadly, the pro-abortionists are not the only ones. The pro-life political group Susan B. Anthony Pro-Life America recently issued a press release stating that Trump's states' rights position "is unacceptable to [the] pro-life movement." But their words tell a very sad tale indeed. The group states, "We will oppose any presidential candidate who refuses to embrace at a minimum a 15-week national standard to stop painful late-term abortions while allowing states to enact further protections."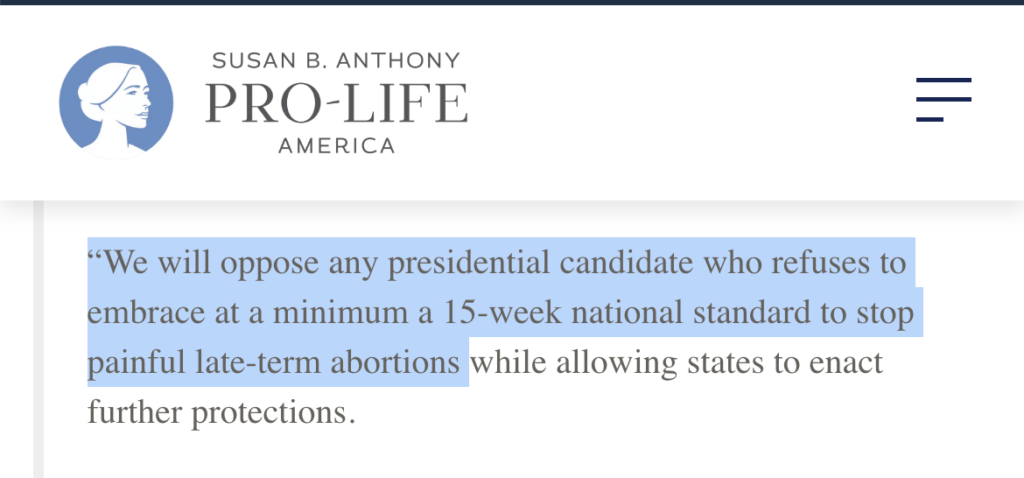 Such a statement, which should never be a public declaration from a pro-life organization, sends a very bad message to the public. Trump could not care less, of course, but what about the American who reads those words and accepts the idea that a baby who is younger than 15-weeks gestational age can still be killed?
Let's remember basic human embryology. Fetal development matters, and by the time a human being reaches her fifteenth week of life before birth she has really scaled the heights, so to speak. She starts as a single cell embryo, and by the time she is 15 weeks old all her major organs are present, her heart is pumping, and each of her fingers moves separately.
So, if you were to follow the alleged "national standard" mentioned by the SBA, thousands of children with remarkable attributes would be susceptible to decriminalized killing simply because they had not reached the magical 15-week stage.
This too is absurd!
The rational person accepts the fact that if you are going to defend innocent people, you step up and speak for all of them. If that is not your plan, sit down. Nothing absurd about that.