In This Issue
Message to Legislators: Defund Planned Parenthood! No Contingencies, No Exceptions
Planned Parenthood State of Abortion Report: 79% of Iowa Abortions Are Committed Via Abortion Pills, Fears They Will Be Banned
The Callousness of Being Pro-Abortion: Comedian Chris Rock Likens Abortion to Hiring Hit Man, Then Propounds Right to Kill Until First Report Card
Walgreens Heeds Warning of 20 State Attorneys General; Will Not Sell Abortion Pills within Those States
This Is How We Stop Planned Parenthood
Message to Legislators: Defund Planned Parenthood! No Contingencies, No Exceptions
It's that time of the year when Congress is appropriating money, and Planned Parenthood stands licking its bloody chops demanding a huge handout to carry on its dirty business of abortion and promotion of sexual license.
In September of last year, Planned Parenthood Federation of America released its long-overdue annual report, showing that in 2020-2021, it banked $633.4 million—over $1.7 MILLION PER DAY—from government sources. That's a full 37% of the abortion giant's annual income for the fiscal year. At year's end, PPFA recorded $133.7 million in profits (income after expense). Along the path to its profit, Planned Parenthood boasts it ended the lives of 383,460 precious babies.
STOPP is reaching out to members of Congress and encouraging all people of good will to do the same! You can find your representatives' contact info here. Our legislators need to hear from all of us today a loud and clear message: No more taxpayer money for Planned Parenthood! Period! There should be no contingencies and no exceptions. Planned Parenthood is admittedly a systemically racist organization founded by eugenicist Margaret Sanger. Analysis of its financial reports and locations reveal that it is an organization that is not here to help the poor, as it likes to say, but to eliminate the children of the poor.
Current bills that are pending to defund Planned Parenthood—H.R. 371 and H.R. 128—would restrict its funding by government recoupment of money PP receives during the fiscal year if it commits abortions. However, there are exceptions written into the bills to allow abortions under some circumstances. Also, money budgeted for women's healthcare but withheld from Planned Parenthood is to be given to community health centers, a large percentage of which offer many kinds of dangerous, abortifacient contraception. Some offer ella, a "chemical cousin to the abortion pill Mifeprex," both of which can "damage the embryo's attachment to the uterus, causing death." Many offer IUDs, which can disrupt an existing pregnancy, resulting in abortion.
Let your congressional representatives know that Planned Parenthood must be defunded. Period! Planned Parenthood's business model is the epitome of evil and should not be taxpayer funded, ever! Nor should taxpayer money pay for deadly birth control from any provider!
Planned Parenthood State of Abortion Report: 79% of Iowa Abortions Are Committed Via Abortion Pills, Fears They Will Be Banned
Planned Parenthood Action's newsroom is reporting that 79% of Iowa abortions are committed via abortion pills. Now Planned Parenthood is complaining that new legislation filed in the state could result in the banning of those abortions. "The proposed ban would make it a felony to manufacture, distribute, prescribe, dispense, sell, or transfer medication abortion pills in the state with penalties of up to 10 years in prison or a fine of up to $13,660," the abortion giant said in its "State of Medication Abortion Access Across the Country" report.
Iowa is also one of the 20 states whose attorney general has recently warned Walgreens and CVS against ignoring current laws in order to sell the abortion pills from their pharmacies. See our full report on the AG's warning in our February 22 edition of the Wednesday STOPP Report.
These attorneys general are standing in the gap for the youngest and most vulnerable among us. We are thankful for their tenacity and for all action to definitively and permanently stop abortion and stop Planned Parenthood!
The Callousness of Being Pro-Abortion: Comedian Chris Rock Likens Abortion to Hiring Hit Man, Then Propounds Right to Kill Until First Report Card
In a truly disgusting account, Catholic News Agency reports on Chris Rock's latest Netflix special. Claiming that he is vehemently "pro-choice" because he wants his daughters to have "complete control of their bodies," Rock then carries that as far the sickest, darkest humor can, saying, "I think you should be able to kill a baby until you get that first report card."
Acknowledging the fact that abortion kills a baby, Rock reportedly said during his act, "Whenever I pay for an abortion, I request a dead baby." He continued, "Sometimes I call up a doctor like a hitman: 'Is it done?'"
The whole ordeal begs the question: Is he being facetious, or can a human being be truly that cold and calculated in promoting the killing of babies, infants, and increasingly older children?
Instead of saying "I'm with the baby killers!" men must step up to advocate for the sanctity of human life. And that's just what is happening where the National Men's March to Abolish Abortion and Rally for Personhood is taking place. Marches are set for March 25 in New York City and June 3 in Albany. You will find more information about the beginnings of The Men's March and its ongoing work here.
Walgreens Heeds Warning of 20 State Attorneys General; Will Not Sell Abortion Pills within Those States
In the last issue of the Wednesday STOPP Report, we told you about a warning letter that was sent to Walgreens and CVS attorneys after the companies announced they would sell abortion pills in their pharmacies. The letters warned that it is a violation of federal law, and in many states a violation of state law, to receive and distribute the pills through the mail. The letters were signed by attorneys general of Alabama, Alaska, Arkansas, Florida, Georgia, Indiana, Iowa, Kentucky, Louisiana, Missouri, Mississippi, Montana, North Dakota, Ohio, Oklahoma, South Carolina, South Dakota, Texas, Utah, and West Virginia.
Major news outlets reported on Friday that Walgreens has responded that it will not sell the pills in any of the 20 states, though it is currently seeking certification to sell the life-taking pills in states where it can legally do so.
Kudos to the attorneys general who continue to stand their ground against the abortion explosion!
This Is How We Stop Planned Parenthood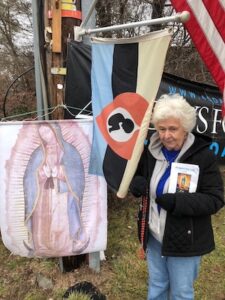 As 40 Days for Life continues its Lenten campaigns, we are so happy to receive pictures from those 40 Days for Life groups who are praying onsite at Planned Parenthood and other abortion facilities.
This one from Spring Valley, New York, captures the heart of how abortion and Planned Parenthood will be stopped. Our approach is and must remain multi-faceted, but in the end, as ALL's founder, Judie Brown, often says: It is through the rosary and through Mary that Planned Parenthood will be stopped.
Thanks to Eileen and everyone else who sends us updates and pictures from your prayer vigils outside Planned Parenthood. We love hearing from you and sharing your experience with others who are praying and fighting hard alongside us to Stop Planned Parenthood!