In This Issue
Planned Parenthood 2020-2021 Annual Report: Abortion at All-Time High, Government Income Up, Clients and Services Down
Planned Parenthood Advises How to Obtain the Abortion Pill Online, Links to Website That Says Some Get Abortion Pills to Save and Use Later If 'Your Period Is Late'
The Blessed Mother's Role in Stopping Abortion and Closing Planned Parenthood
Planned Parenthood 2020-2021 Annual Report: Abortion at All-Time High, Government Income Up, Clients and Services Down
By Rita Diller
Planned Parenthood seeks to impose abortion and sexual license worldwide and seizes every opportunity to do so. Planned Parenthood Federation of America's 2020-2021 annual report was finally released on Friday, September 9. The report is normally released in January or February. It amounts to a clarion call to all people of good will to stop the abortion giant and its grisly, ever-expanding abortion business.
The report shows that Planned Parenthood's abortion numbers and income are up, while fewer "services" were reported. Additionally, with this report, unduplicated client numbers fell after holding steady for the past five years.
▲ Planned Parenthood abortions reach an all-time high
Planned Parenthood killed 383,460 babies by abortion, an all-time annual record—up 8.1% from the previous year. In the six years from 2015 through 2020, PPFA's annual reports show that it has taken the lives of over two million babies by abortion.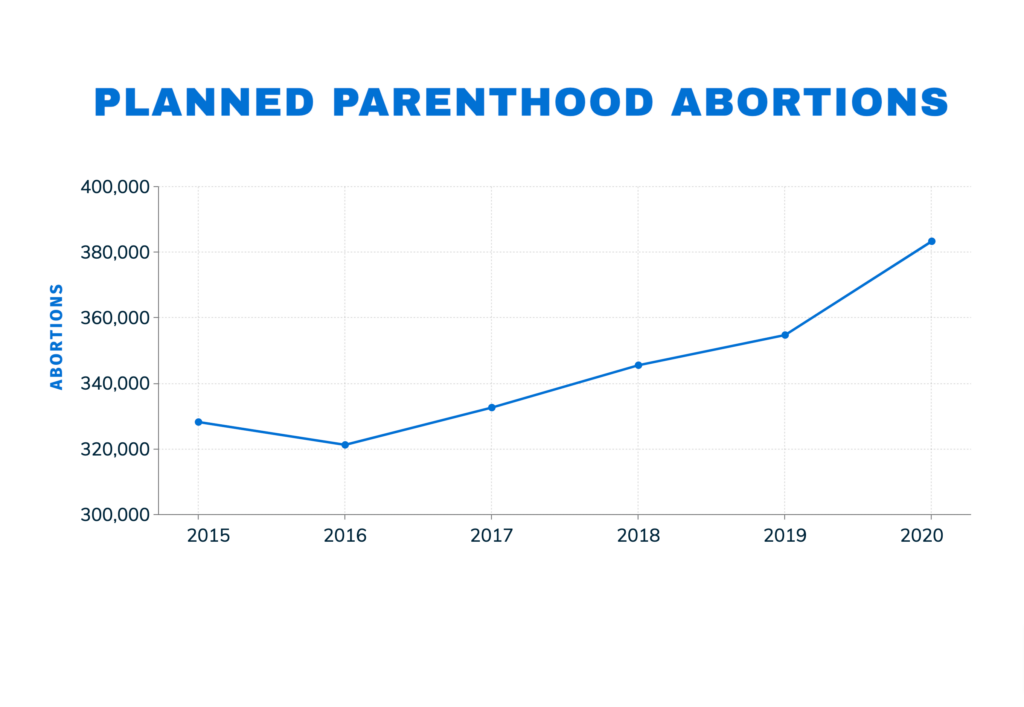 ▲ Government income $1.7M PER DAY is 37% of PP's total income
Government income amounted to $1.7 million per day and was almost double PP's non-government health service income.
The taxpayer dollars, totaling $633.4 million for the 12-month period, accounted for 37% of PP's total income. Private contributions and bequests increased 13.6% to $579.3 million.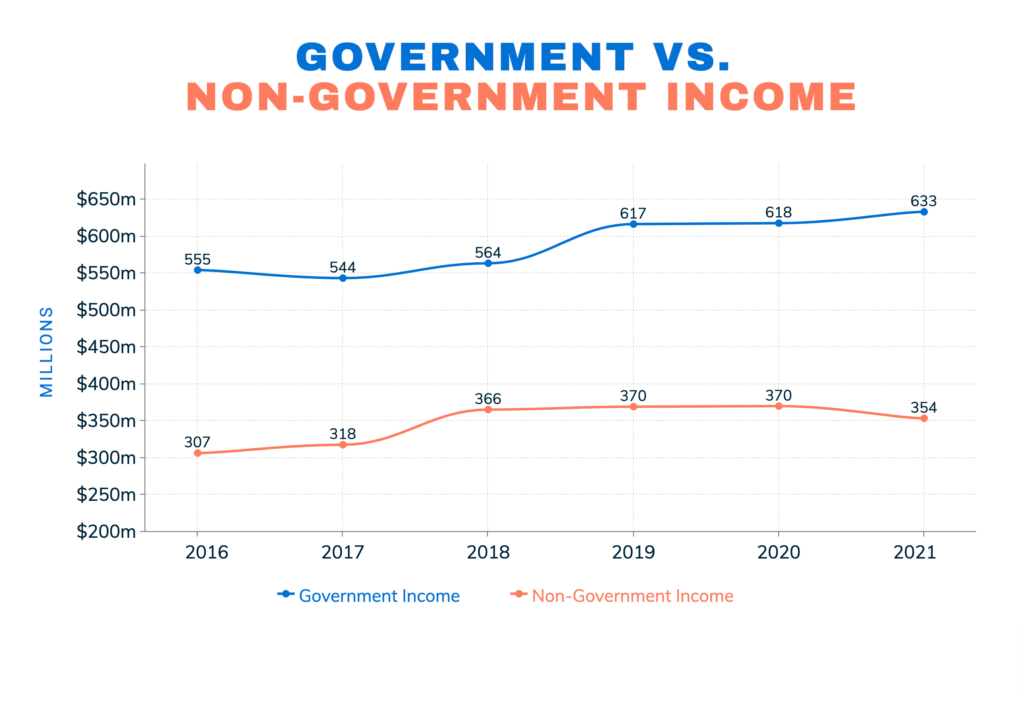 ▲ Profit of $133.7M is 21% of government income amount
Planned Parenthood banked $133.7 million in profit (income after expenses) at the end of the fiscal year (up 92%) after raking in $633.4 million from taxpayers.
At the end of the reporting period, Planned Parenthood's annual profit was equal to 21% of its government income.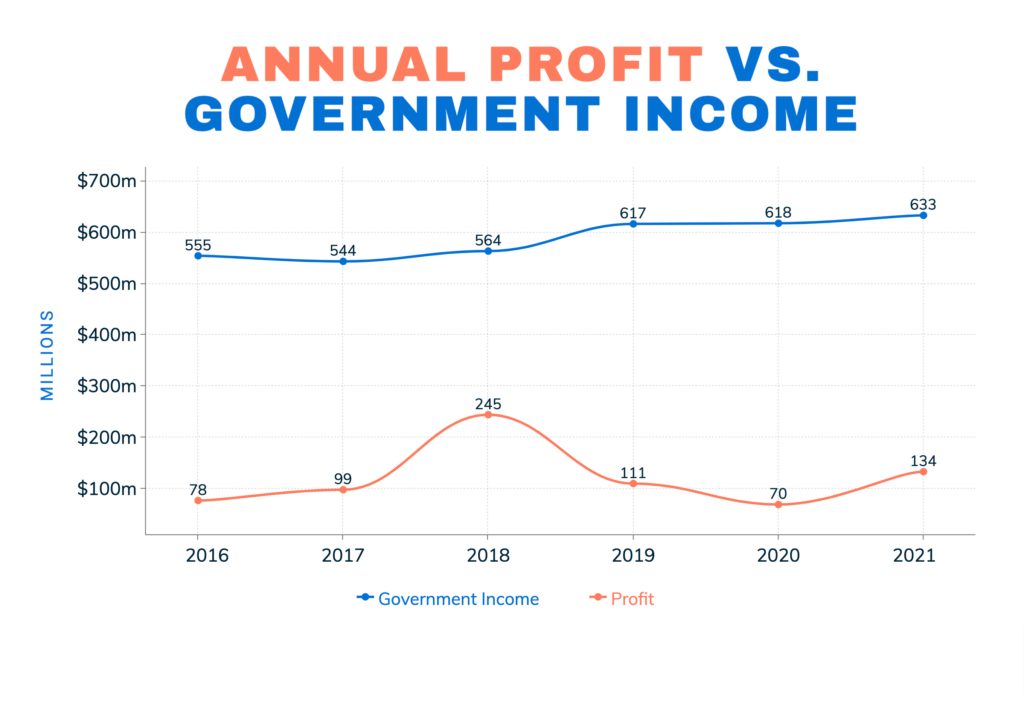 ▼ Services and customer base in decline
Fifteen of the 20 "services" listed on the PPFA annual report show decline.
Total unduplicated clients decreased by 10%.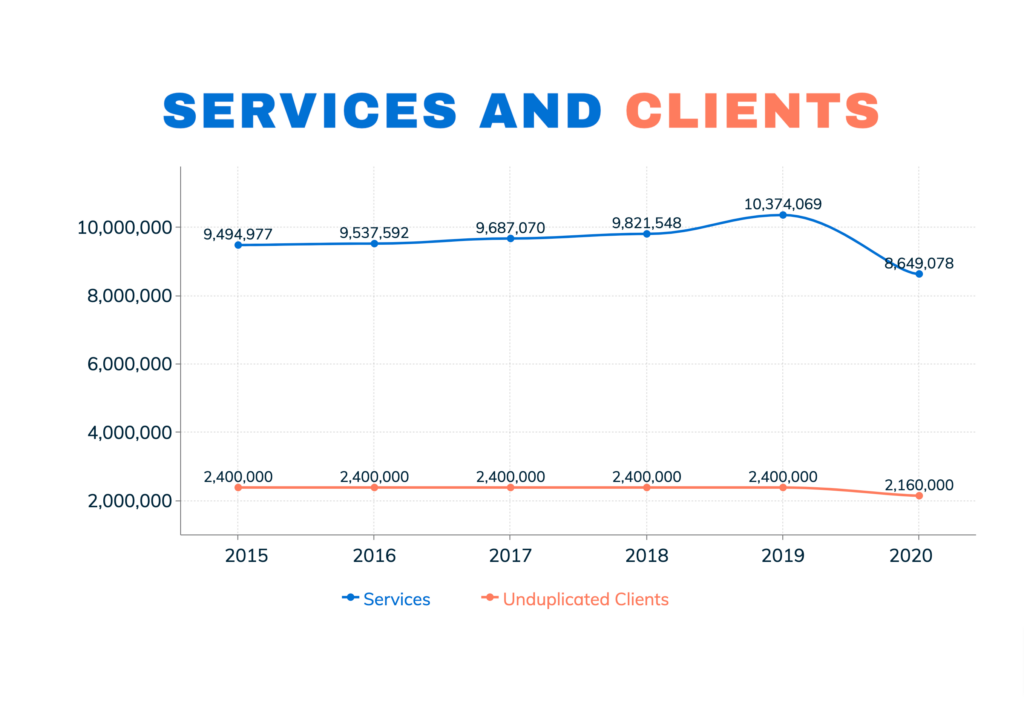 ▼ "Deep" corporate inroads to change the culture and reduce abortion stigma
The annual report also bragged about expanding its "deep" partnership with 28 companies in protecting abortion, its success in targeting the black and Latino youth through TikTok and other social media, and its dramatic influence on media to change the culture and reduce the stigma of abortion. (Emphasis is in PP's annual report.)
Planned Parenthood Advises How to Obtain the Abortion Pill Online, Links to Website That Says Some Get Abortion Pills to Save and Use Later If 'Your Period Is Late'
Planned Parenthood is focused on abortion, and it is pulling out all the stops. At Planned Parenthood, the website says a pill abortion can cost over $800, with the average cost running $580!
PP advises girls and young women on its website that abortion pills are safe and effective and can be obtained at Planned Parenthood and elsewhere via telehealth and mailed to your house depending on what state you live in.
It goes on to link to an external website that advises: "Some people who are not pregnant get abortion pills to keep in their medicine cabinet just in case their period is late. They can then take the pills right away without having to wait a long time for shipping. Some services listed in our Guide to Pills let you order pills in advance (Aid Access offers this 'advance provision' in all states)."
Planned Parenthood's disclaimer denying responsibility or endorsement of "any legal, medical, or other advice or information provided by any of the entities identified or referenced herein or by any other third parties, whether referenced herein or not" seems a weak attempt at trying to pass on information about how to break the law without being held legally responsible. The disclaimer is found at the bottom of the Planned Parenthood website entitled "What You Need to Know About Abortion Laws and Getting an Abortion in Your State."
Planned Parenthood's own website also advises that "self-managed abortion" without consulting a doctor or nurse "can be safe and effective."
"We know that the abortion cartel never ceases their war on babies. It is up to us to expose this in every way we can," said Judie Brown, president of American Life League.
Keep in mind that Mifeprex, the first pill taken in the 2-pill regimen to kill and expel the child, carries a boxed FDA danger warning.
WARNING: Serious and sometimes fatal infections and bleeding.
Is it safe for the preborn child? Deadly! Is it safe for the girl or woman taking the pills? The FDA says it can be deadly! Does buying abortion pills in advance of pregnancy promote health? No, but many girls and women will be frightened by extreme bleeding and cramps and can be further traumatized and abused by predators who can now more easily than ever abuse young girls and women and destroy the evidence with abortion pills bought in advance and given without medical supervision. Even if the young girl purchases the pills for her own use, once they are stored at home, what controls are in place to ensure that the safety factors for her health situation are met or that someone else will not be slipping it into her dessert?
The website Planned Parenthood links to goes so far as to provide information about how one can order abortion pills from foreign companies, which would result in bypassing FDA safety regulations.
The FDA website, meanwhile, carries this highlighted warning:
Do Not Buy Mifeprex or Its Approved Generic Over the Internet

You should not buy Mifeprex or its approved generic over the Internet because you will bypass important safeguards designed to protect your health.

Mifeprex and its approved generic have special safety restrictions on how it is distributed to the public. Also, drugs purchased from foreign Internet sources are not the FDA-approved versions of the drugs, and they are not subject to FDA-regulated manufacturing controls or FDA inspection of manufacturing facilities.
The FDA website reports:
As of June 30, 2021, there were reports of 26 deaths of women associated with mifepristone [Mifeprex] since the product was approved in September 2000, including two cases of ectopic pregnancy (a pregnancy located outside the womb, such as in the fallopian tubes) resulting in death; and several cases of severe systemic infection (also called sepsis), including some that were fatal.
The Blessed Mother's Role in Stopping Abortion and Closing Planned Parenthood
A ramped-up effort is on the horizon at ALL during October, the month dedicated to Mary! Be sure to check out the next edition of the Wednesday STOPP Report for our big news!
In the meantime, here is an important message about the power of the rosary and holy images of Our Lady in STOPPing Planned Parenthood. It was published in ALL's Celebrate Life Magazine in 2010 and reveals the often-missing link to closing Planned Parenthood that we continue to build on today.
As a convert to the Catholic faith, the last and perhaps greatest hurdle for me was devotion to Mary, the mother of Christ, who prophesied, "All generations will call me blessed" (Luke 1:48). Finally, I surrendered my doubts, stepped out in faith and began to trust her. . . . 

I could never have imagined that 25 years later, through her intercession, Planned Parenthood's death grip on the Texas Panhandle would be shaken and a chain of 20 PP centers would fold, ending the culture of death's decades-long reign in the Amarillo area.
If you want to find the often-missing link to stopping Planned Parenthood, read the rest of the story here!