Action Item of the Week
–
It's Not Too Late to Download the Lenten Booklet
Lent officially started this past Wednesday. ALL's Culture of Life Studies Program has developed a new reflection booklet to help you grow spiritually during this season.
When we are confirmed, the Holy Spirit bestows upon us the gifts of wisdom, understanding, knowledge, counsel, fortitude, piety, and fear of the Lord. These seven gifts help us as we strive to strengthen our relationship with Him.
To help us reflect on these gifts, the Culture of Life Studies Program has created a Lenten reflection booklet that focuses on these gifts of the Holy Spirit.
Each day's entry includes a Bible verse, a reflection, and a short biography of a saint who lived the meaning of that gift. We follow that with suggestions for how you and your family can use this saint's example to build a culture of life in your own home or community. 
Join us this Lent as we grow in faith and strengthen our families! The Lenten reflection booklet is linked here.
---
Week in Review

 – Call to Boycott CVS, Walgreens, and Rite Aid; Use Local Pharmacies Instead

If you haven't heard, CVS, Walgreens, and Rite Aid have all applied for authorization to dispense the deadly abortion pill regimen.

These companies have made their intentions clear–to sell and distribute pills that murder children. We are encouraging our supporters to join in a boycott of these companies. If possible, avoid shopping at these companies until they decide to reverse the decision. They need to realize murdering babies is bad for business!

California Right to Life has developed a free downloadable flyer for anyone who is looking to spread the word about these pharmacies. Check out the free download here.

In the meantime, we are encouraging people to use local, family-run pharmacies.

If you know of a pro-life pharmacy in your area, contact our office and let us know so we can share the information with others.

The need for pro-life pharmacies is great, especially with the news that the Department of Health and Human Services will come after pharmacies that refuse to partake in baby killing.

As Rita Diller reported in this week's STOPP Report, the Texas attorney general is going after HHS "guidance" that says any pharmacy that refuses to sell the abortion pill regimen could lose Medicaid and Medicare funding.
A February 7 press release from Texas' attorney general Ken Paxton notes that in July 2022, the US Department of Health and Human Services issued guidance that "pharmacies must provide abortion-inducing drugs to women seeking elective abortions in order to stay in compliance with the Biden Administration's view of federal law. The guidance threatened that pharmacies not falling in lockstep with Biden's pro-abortion agenda would face the loss of Medicaid and Medicare funds.

"The Biden Administration knows that it has no legal authority to institute this radical abortion agenda, so now it's trying to intimidate every pharmacy in America by threatening to withhold federal funds," said Paxton. "It's not going to work. Texas and several other states across the country have dutifully passed laws to protect the unborn, and we are not going to back down just because unelected bureaucrats in Washington want to create illegal, extremist federal policies."
A lawsuit was filed against HHS on behalf of the state of Texas on February 7 to overturn the unlawful requirement. You can read the entire lawsuit here.
---
ALL president Judie Brown reflects on different presidents' pro-life positions. On President's Day, Judie issued a press release calling out policy makers who have an agenda for death and applauding the few pro-life presidents we've had in the last 50 years. The press release was featured on several sites, including California Globe and PJ Media.
Hugh Brown was interviewed on the subject of the presidents' political leanings by American Family News and the Pro-America Report with Ed Martin.
Susan Ciancio, Celebrate Life editor and head of CLSP, writes a weekly commentary on timely pro-life topics. Her commentary from this week was featured in the Catholic World Report and discussed the season of Lent. Last week, Susan's commentary on Presidents' Day was featured in The Washington Times.
Celebrate Life, ALL's quarterly pro-life magazine, recently mailed its Winter 2023 issue. One of the headlining articles covers the multiple cases of vandalism that have occurred at pro-life centers across America. The article dives into why this is happening and why so little is being done to stop it. Read the full story here.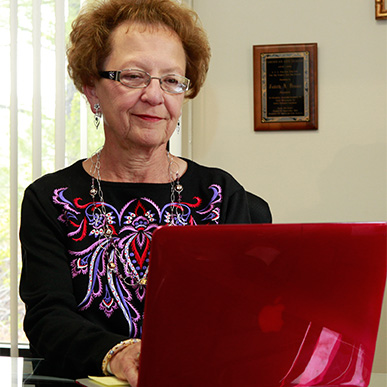 Twice a week, Judie's commentaries are distributed to an expansive media list. The list contains over 100 media outlets, such as Fox News, The Federalist, Breitbart, and The Daily Caller, among others. Judie's commentaries are each featured on the front page of ALL.org. Each commentary is also featured as a part of Judie's recurring column on Renew America.
---
Pro-Life Social Media
–
Grinning Abortionist Brandishes Her Weapon of Mass Destruction
The people who kill preborn children for a living have an aversion to being called abortionists. They prefer to sugarcoat their trade as "abortion care providers." That makes about as much sense as a dentist demanding he be called a "tooth care provider" or a podiatrist insisting she's a "foot care provider." Abortion is a nasty term and the people who advocate for it are doing a pretty good job of destigmatizing it, yet being called an abortionist is too icky for them.

Katie McHugh is one of those abortionists, and like the street thugs who brandish their guns on Instagram before setting to the streets on a crime wave, McHugh brandished her weapon of choice—a manual vacuum aspirator.
Happy Friday! #Abortion care is still legal in Indiana. We're doing everything we can to keep it that way.#AbortionIsHealthcare – as well as a community priority, a family value, and a normal part of life!

Abortion is moral, common, and it isn't going away.

Neither are we. ❤️ pic.twitter.com/B8ehep1wDi

— Katie McHugh, MD (she/her) (@KtMcH) February 17, 2023
No doubt, thousands of children have been dismembered by her hands, and yet her smile tells us that her wanton destruction doesn't faze her.
When you close your eyes to go to sleep at night, do you ever see the faces of the kids you murdered? Do you ever think about what those children would look and sound like today if you hadn't dismembered them?

— Allie Beth Stuckey (@conservmillen) February 19, 2023
This is deeply creepy. Reconsider your oath.

— Jim Stinson (@jimstinson) February 19, 2023
Awe look at you all enjoying being a murderer. Even got the ❤️ emoji and everything.

— Five Times August (@FiveTimesAugust) February 18, 2023
You're profile says mama…not sure how a mother could be proud of this work

— Frontsight (@frontsight81) February 18, 2023
Even a few pro-aborts expressed discomfort.
I'm largely pro-choice but I question if I'm on the right side of the argument when I see providers get excited to perform abortions. This is a very, very creepy post.

— Storm (@stormrobinson) February 18, 2023
Seeing how happy you are to kill babies makes me question my pro choice stance

— Jake Shields (@jakeshieldsajj) February 19, 2023
The mothers who hire her certainly aren't smiling like this.
I'll take- something Satan would Tweet for $1,000 Alex

— Vince Langman (@LangmanVince) February 20, 2023
This is so ghoulish and evil. It's like Dahmer holding up a power drill with a big toothy grin on his face. Sickening in every single way. You're a murderer.

— Lindsey: Hillbilly Homemaker (@ohmydepravity) February 18, 2023