In This Issue
Marching for Life After the Demise of 'Roe': The People of Darkness Have Seen a Great Light
March for Life Brings New Friends, New Associations, New Resolve, and New Hope
Planned Parenthood to Open Back-Alley Entrance to Oregon Abortion Center
Marching for Life After the Demise of 'Roe': The People of Darkness Have Seen a Great Light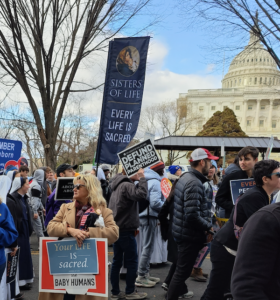 By Rita Diller
I was blessed to make a pilgrimage to our nation's capital for the first post-Roe gathering of thousands of pro-life warriors at this year's­­ March for Life to celebrate every baby saved and mourn every life lost to abortion. And while many at the March held to the idea that we can only win the battle against abortion through incrementalism—an unsound notion promoting laws that provide for many babies to be killed in hope of saving the majority—ALL was there to stand firmly as we always have: 100% pro-life, no exceptions. Because respect for human life demands it. All people deserve to be protected by law and respected from the very beginning of their existence.
We were reminded of this in the Mass readings on January 22, as the Gospel of Matthew unpacked Old Testament prophecy for us: 
[T]he people who sit in darkness have seen a great light,
on those dwelling in a land overshadowed by death
light has arisen.
From that time on, Jesus began to preach and say,
"Repent, for the kingdom of heaven is at hand."
It is clear that in our land, overshadowed by the legacy of almost 50 years of Roe—which led to the death of 60 million babies coldly and cruelly slaughtered under the guise of freedom and women's rights—the blood of those children merits cries for repentance and forgiveness of such horrific sins and injustice. And if we repent and call on our Lord, He will, indeed, conquer the darkness.
We need a seismic shift in this hour of opportunity—a huge groundswell demanding the enactment of principled, life-protecting laws in all 50 states, and an affirmation that those human rights that already exist in our US Constitution apply to all people, born and preborn.
With the removal of a bogus Constitutional right to abortion, the overturning of Roe turned us toward the light. Though it did not stop all abortion by any means, the great news was that it put us one step closer to stopping all abortion through recognition and protection of the personhood that arises at the very moment of the creation of life.
In December, American Life League embraced The Virginia Rights Beginning at Conception Bill (HB 1395) as a model for legislation that protects human life without exception. "This bill addresses the fact that a human being is a person from the very first moment of his existence. Therefore, this person is deserving of absolute respect as a fellow human being who is innocent and therefore to be treated as such," ALL president Judie Brown said in a press release. "Abortion kills an innocent person and is a crime; HB 1395 simply acknowledges this obvious fact."
The proposed Virginia legislation is simple and clear in its language and intent, proclaiming that life begins at creation, and each person is accorded the same rights and protections guaranteed to all persons by the Constitution of the United States and the Commonwealth of Viriginia at the moment of creation.
All those involved in the fight to stop abortion realize the battle is far from over with the death of Roe. Most realize that now is the time that we must take urgent action to bar the killing federally and in all 50 states. As Abraham Lincoln noted after the Dred Scott decision that opened the door to a split nation, with slavery legal in some states and illegal in others, "a house divided cannot stand." And though he did not expect the nation to fall, he knew it would go one way or the other.
As Fr. Stephen Imbarrato pointed out in a recent talk, if you look at today's maps that show states where abortion is restricted to one degree or the other following Roe's demise, you see a nation divided by respect for life versus allegiance to abortion.
Today, the enemy has arisen with fire and fury, taking advantage of this moment in time to attempt to permanently enshrine abortion into the US Constitution and into all state laws.
On Monday, January 23—the National Day of Prayer for the Legal Protection of Unborn Children—the scripture readings provided further guidance for us. We find the answer to stopping abortion and stopping Planned Parenthood in a few brief words spoken by Christ Himself:
How can Satan drive out Satan?
If a kingdom is divided against itself, that kingdom cannot stand.
And if a house is divided against itself,
that house will not be able to stand.
And if Satan has risen up against himself and is divided,
he cannot stand;
that is the end of him.
But no one can enter a strong man's house to plunder his property
unless he first ties up the strong man.
In the face of the upheaval surrounding Dobbs, we have seen confusion, infighting, division, and unrest among those who seek to further abortion, especially at Planned Parenthood. But we have also seen huge infusions of money—including a quarter of a billion dollars in a single donation—to bolster the enemy's plans for killing babies and a scramble to unify pro-abortion forces in order to recover the status quo that existed under Roe v. Wade.
To stop abortion, it is necessary to "tie up" the demons that drive this carnage. And how will demons be tied up? Through unceasing prayer, which will inevitably lead us to unceasing, spiritually informed action that will result in the pre-Roe restoration of the right to life to all people, born and preborn. If we are to win this battle, we must create a huge groundswell for the recognition and protection of the personhood of everyone from the very beginning of his or her existence. We know it is God's will that life will prevail. But we must renew our resolve to fight the battle with ferocity, and without exception, not counting the cost, until abortion is no more.
March for Life Brings New Friends, New Associations, New Resolve, and New Hope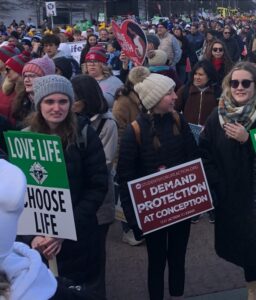 STOPP made lots of new friends and renewed ties with our allies at the three-day March for Life Expo, Masses, and the March itself, as well as on the journey in and out of Washington, DC. People on the ground struggling to stop the abortion giant, in what can seem like a solitary and unrelenting battle, some feeling very much alone, found a new ally in STOPP.
There was much light and hope to be seen among the March for Life participants! Joining us on our flight from Dallas were the first of our newly found friends: 40 young people and their entourage of priests, sisters, and lay sponsors from Louisiana. Their joy was palpable. Together we experienced our "rodeo landing" in Washington, DC, which precipitated screams when the plane hit the runway really hard. Those screams turned to laughter in a few seconds when all realized we were fine and the plane was in one piece, thanks be to God!
It was a foreshadowing of the entire face and focus of the March, which was youthful, faith-based, and joyful. And yet there was a great sense of urgency to stop abortion.
So. Many. Young people! From our viewpoint, the heart of the March was grounded in the mission to stop abortion and help families thrive and survive. The soul of the March was grounded in the sacraments via the many Masses that were an inherent part of the weekend. At the National Basilica thousands attended the USCCB-sponsored Mass and prayer vigil. For those of us stationary at the hotel, it was the chanted Latin Mass—celebrated in atonement for the sins of abortion by the Benedictine monks from New Mexico—that renewed our strength and hope.
We also found by talking to those coming by our booth that in many places the situation is more dire now than it has ever been for them. One gentleman spoke of three layers of "security" around Planned Parenthood. It begins with the first fence, then a few feet later another fence, bolstered by security personnel at the next level. And he said if a pro-life person dares to utter a prayer aloud, they will be arrested. What an obnoxious show of force against peaceful, prayerful people who are there to offer assistance to those in need!
Roe was enacted 50 years ago. For the first 21 years of my life, abortion was illegal and for most, unthinkable. But today's young people have never known a nation where the beginning of their own lives was protected and respected. Let's work together to make abortion unthinkable and illegal now and forever. Contact me at rdiller@all.org or check out our website at all.org/stopp. We can't wait to hear from you.
Let's tie up the demons that prowl and ravage and kill our future generations. Together, under the mantle of Our Lady, we are going to be tying up demons, guaranteed! May God continually bless our combined work to stop Planned Parenthood!
Planned Parenthood to Open Back-Alley Entrance to Oregon Abortion Center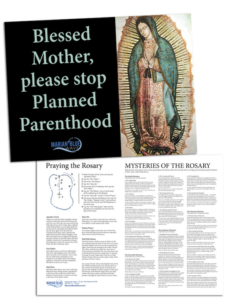 Because of restrictions that make most abortions a felony in Idaho, Planned Parenthood is opening an abortion shop in the border community of Ontario, Oregon.
The building was renovated so that the patrons would have to enter from the back, with parking on the side of the building. Planned Parenthood leaders brag that the officials of Ontario have been very welcoming. However, the fact that the abortion giant incurred the cost of extensive renovation to restrict entrance to the back ensures that they are really not feeling the love. So, that brings us to . . .
Shutting Down PP 101: Education about the reality of Planned Parenthood and peaceful prayer outside its facilities will result in erosion of community support. Planned Parenthood needs community support to operate. Without that support, it will shut its doors and start looking for a more supportive community. When Planned Parenthood comes to your town, be prepared with your rosaries, images of Our Lady, and signs that educate about Planned Parenthood! Join our Marian Surge in bringing Jesus to PP through Mary! Persevere in prayer and education!
If you have not done so already, now is the time to begin your peaceful, prayerful vigils on site! Planned Parenthood shut down 20 facilities in the confines of the Diocese of Amarillo when the Church stood in peaceful prayer and education in opposition to the evil of abortion and to Planned Parenthood's sexual indoctrination of children. The same can happen in your town!