FIGHT PLANNED PARENTHOOD
You can help save a life today!
Make a difference and give light to the darkness. DONATE

Week in Review – Planned Parenthood finds new clinic space in Wilkes-Barre
Planned Parenthood Keystone is celebrating this week, as it was able to find a "Catholic" businessman in Wilkes-Barre (PA) who will rent them clinic space for—at least—the next five years. PP had been scrambling to find a place when its previous landlord told PP that its lease would not be renewed at the end of the year. News reports indicate that the agency that had rented clinic space to PP for over 80 years got cold feet when PP started talking about offering abortions in the clinic.
Faced with nowhere to go, PP launched a search with the help of a local real estate agent to find another place. It was announced this week that PP found a space within walking distance of the clinic it is vacating. According to a news story in the Times Leader, businessman Thom Greco confirmed he owns the 101 N. Main St. building that will be the new site for Planned Parenthood's Wilkes-Barre Health Center in January. Planned Parenthood Keystone in Allentown announced the move Wednesday in a press release.
"I am a deeply religious man and practicing Catholic and I believe in protecting the health and well being of women and their families. I do not believe it is my place to dictate my religious belief to others," Greco said in an email.
"Although I believe that the decision to end a pregnancy must be left to a woman, her family and her faith, I can share that surgical abortions will not be offered at this site," he added.
The fallacies of this statement by a supposed "practicing Catholic" are numerous. Without addressing them all, there is one particularly alarming statement made by Mr. Greco. He said "… surgical abortions will not be offered at this site."
The fact is that the majority of Planned Parenthood locations that commit abortions do not kill the baby with "surgical abortions." Planned Parenthood's choice of killing methods is through "medication abortions" (the abortion pill used to kill babies up to 10 weeks old). In fact, at the beginning of 2018, Planned Parenthood had 166 facilities that committed surgical abortions and 190 facilities that did medication abortions but not surgical. The number of medication-only Planned Parenthood abortion centers has been growing at a rapid rate over the last decade.
Thus, saying that no surgical abortions will be committed at the site is a far cry from saying that no abortions will be committed there. There is no way of telling if it is the landlord or Planned Parenthood that is playing word games to disguise PP's intentions, but the general public should not be misled. Whether through surgical abortions, medication abortions, or the abortifacient actions of numerous Planned Parenthood birth control products, preborn babies will be dying as a result of activity at Planned Parenthood's Wilkes-Barre facility for years to come.
Last week we told you of Planned Parenthood's primary care efforts. Well, this week the Planned Parenthood facility in Boise, Idaho, announced it will no longer do primary care. Seems it could not lure enough customers to make it profitable. The other PP locations named last week are still doing primary care.
---

ALL in the News – Catholics, Abortion and Planned Parenthood's CEOs
This week we call your attention to Judie Brown's commentary, Catholics and Abortion, in which she laments that every bishop is not like a Missouri bishop who teaches that abortion, sterilization, and contraception are all wrong.
STOPP's 2018 PP CEO Report prompted subsequent articles at LifeNews and LifeSite News.
Jim Sedlak was quoted in a OneNewsNow article about Planned Parenthood's new pro-gender- switching video for parents.
Jim Sedlak's Pro-Life Activism from Creation to Death is a weekly talk-radio program on the Radio Maria USA network. It can be heard live every Friday at noon (Eastern Time) and is repeated on Saturdays (10 PM) and Mondays (10 PM). His main topic for this week will be CINOs (Catholics in Name Only) who support Planned Parenthood.
---

Video of the Week – God has a Plan for Emma
"God has a Plan for Emma": TV anchor explains why she and her husband chose life for their anencephalic daughter
---

Action Item of the Week – Bells for Babies
Since the late 1980s, pro-lifers across the United States have been calling attention to the huge death toll of the abortion holocaust. One of the ways to publicly do this is to have churches in your town join a "Bells for the Babies" effort.
The basic concept is that as many churches as possible agree to ring their bells at a specific day and time. The bells are rung once for every one million babies who have died through abortion. The generally accepted number of babies who have died in the United States since the Roe v. Wade decision is 65 million.
Thus, on the appointed day, each church would toll its bells 65 times. The specific time and date can be chosen by the local community.
The most popular days are:
The Feast of the Holy Innocents (also called Childermas, or Innocents' Day), celebrated in Christian churches in the West on December 28 and in the Eastern churches on December 29. It commemorates the massacre of the children slaughtered by King Herod in his attempt to kill the infant Jesus.
January 22—the day the United States Supreme Court handed down the Roe v. Wade and Doe v. Bolton decisions.
While the bells ring, pro-lifers gather in prayer and solidarity.
Now is the time to choose the date and time in your community and encourage as many churches as possible to join.
We must show the world that we will never forget the innocent lives lost to abortion.
---
Pro-life Social Media – Planned Parenthood Troubled by Mothers Not Choosing Abortion
Planned Parenthood says there's a financial burden to an "unwanted pregnancy." Guess what it's going to sell them?
Planned Parenthood wants its supporters to believe it cares for the financial well-being of its female patients. This week, a California Planned Parenthood affiliate tweeted about the burdens of not killing a child.
The financial burden of an unwanted pregnancy has a negative economic impact on a woman's family for generations. Women must be able to make decisions about what is best for their lives without barriers or stigma. #WeWontGoBack #StandWithPPhttps://t.co/jTVUaMGuz2

— Planned Parenthood (@PPPSGV) December 6, 2018
In an earlier, now-deleted, version of the tweet, the "negative economic impact" was merely a possibility.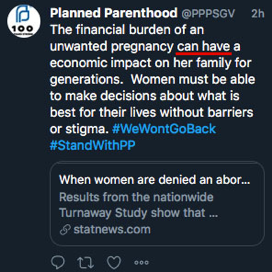 Planned Parenthood insists abortion is necessary because caring for a child can be is a financial burden. Let's examine the "economic impact" that Planned Parenthood is so concerned about.
There are three possible outcomes for a pregnant mother faced with "an unwanted pregnancy"—raise the child, abortion, and adoption. Giving birth and raising the child is certainly the costliest. The price of an abortion, depending on the age of the preborn child, can be upwards of $1500. But if the mother lives in a state like California, taxpayers will cover the cost. So what about adoption? Depending on state laws, that option, too, can cost her nothing.
According to Adoption Network, the most common birth mother expenses are:
medical costs
temporary living expenses
counseling fees
attorney and legal fees
travel
In all 50 states, Medicaid provides health coverage for low-income pregnant mothers. So, whether she chooses to raise her child or take advantage of a state's safe-haven law, she incurs zero cost for birthing the child. If the mother puts an adoption plan in place during pregnancy, an adoption attorney can ensure that the baby's adoption parents will cover all expenses, up to and including post-natal counseling.
Ashley Baldwin is an adoption mom. On the 1 Girl Revolution Podcast, Ashley shares her story of adopting Stella, whose birth mother was a teenager. Stella's birth mother paid nothing to place her baby in the home of Ashley's family.
It should come as no surprise that, despite all of the sex-information and "options" dumped upon teenagers by pro-abortion educators, a 14-year-old would know so little about adoption. Given that an abortion will cost nothing to a poor mother, and an adoption will cost nothing to a poor mother, which one of those two options is Planned Parenthood most likely to sell?
Planned Parenthood isn't in the adoption business. It's in the abortion business. It only makes money on one of those, and it certainly isn't the one that allows the baby to live. When a frightened, teenage mother chooses not to have her child killed, the only one suffering a financial burden is Planned Parenthood.