Week in Review – Pro-Abortion Atheist Appointed to Pontifical Academy for Life; ALL Voter Guide Available Free; HALO Helpline Provides Free Support
In an October 15 press release, it was announced that Pope Francis has appointed a pro-abortion atheist to the Pontifical Academy for Life in Rome.
Mariana Mazzucato was appointed as one of the PAL's new "Ordinary Academicians." According to the Vatican's press release, the appointment was made ahead of the PAL's next assembly; "The Pontifical Academy for Life is organizing the next Assembly, which is set for Feb. 20-22, 2023, on the theme 'Converging on the Person. Emerging Technologies for the Common Good."
LifeSiteNews reports that not only is Mazzucato a self-proclaimed atheist, but she is also a fervent supporter of abortion, even criticizing the overturn of Roe in June of this year. This appointment follows a trend by Pope Francis of appointing pro-abortion candidates to the PAL. According to LSN, last year, he appointed pro-abortion population control activist Jeffrey Sachs to the Pontifical Academy of Social Sciences, and in 2017, appointed a pro-abortion Anglican minister to the PAL.
Ahead of election season, ALL is putting its American Life League Voter Guide front and center! The voter guide is a helpful tool to aid Catholics in reviewing how candidates stand in accordance with Church teaching.
As Catholics, we have an obligation not just to vote, but to vote for candidates who do not openly support evil policies. Further, we have an obligation to challenge existing "Catholic" politicians to refrain from advocating laws that condone intrinsically evil practices.
The voter guide reviews the four "non-negotiable" items Catholics need to consider when reviewing a candidate's position. This includes no exceptions on abortion, euthanasia, human embryonic stem cell research, and human cloning.
The voter guide can be used in any election to help make an informed decision. The guide does not attack specific candidates but educates Catholic voters on what to watch out for.
This helpful and free resource is available on the ALL homepage here.
Speaking of free and helpful resources, have you heard of the HALO Helpline?
HALO's Helpline provides free and confidential information, support, and referrals for patients, their family members, and caregivers who have concerns about the treatment and care a patient is receiving in any healthcare setting, either at home or in a facility.
The Helpline is staffed from 9:00 am to 5:30 pm, Central Time. Voicemails received after hours will receive a reply during normal business hours.
---
ALL in the News

– Judie Brown Calls Out Fake 'Pro-Life' Republicans; Media Coverage of ALL Rosary Continues; Susan Ciancio Stresses the Importance of Moral Leadership at the University of Notre Dame

Judie Brown interviewed with the National Catholic Register on the national upset over Republican candidates backpeddling on abortion right before the mid-term elections.

The media's coverage of ALL's rosary event in DC continues. The event marked the anniversary of the Marian Blue Wave and the welcome of the new Marian Surge. The event was covered by The Boston Pilot, Catholic Review, and The Dialog.

Celebrate Life Magazine editor Susan Ciancio writes a blog once a week. The blog features topics ranging from helpful Christian insight to current events. This week's blog was featured as an op-ed on Catholic World Report. As an alumna herself, Susan writes about the need for stronger moral leadership at the University of Notre Dame.

Hugh Brown, ALL executive vice president, interviewed with American Family News this week on the pope's recent appointee to the PAL.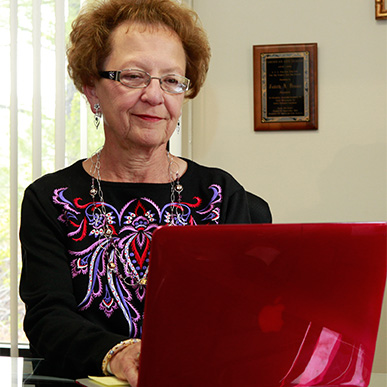 Twice a week, Judie's commentaries are distributed to an expansive media list. The list contains over 100 media outlets, such as Fox News, The Federalist, Breitbart, and The Daily Caller, among others. Judie's commentaries are each featured on the front page of ALL.org. Each commentary is also featured as a part of Judie's recurring column on Renew America.
---
Video of the Week

– Hugh Brown, Executive VP of American Life League, joins Trending with Timmerie discussing how husbands can fight for their marriage when things get difficult.
How can husbands fight for marriage when the culture makes it extremely difficult to defend what God has ordained? Hugh Brown joins "Trending with Timmerie" to discuss the sacrament of marriage, the objectification of women, and the God-given role of men as leaders of the family.
---
Action Item of the Week

–

Awaiting the Gift of Christ

Walking with the Saints This Advent will take you through Advent with stories of some amazing saints and with teaching from the Catechism of the Catholic Church. Each day, we introduce a concept from the Catechism, provide a short bio on a saint, and include a reflection of how that saint lived his or her life according to Church teaching. We then offer a way for you to use that saint's example to build a culture of life in your home or community and end with a short prayer.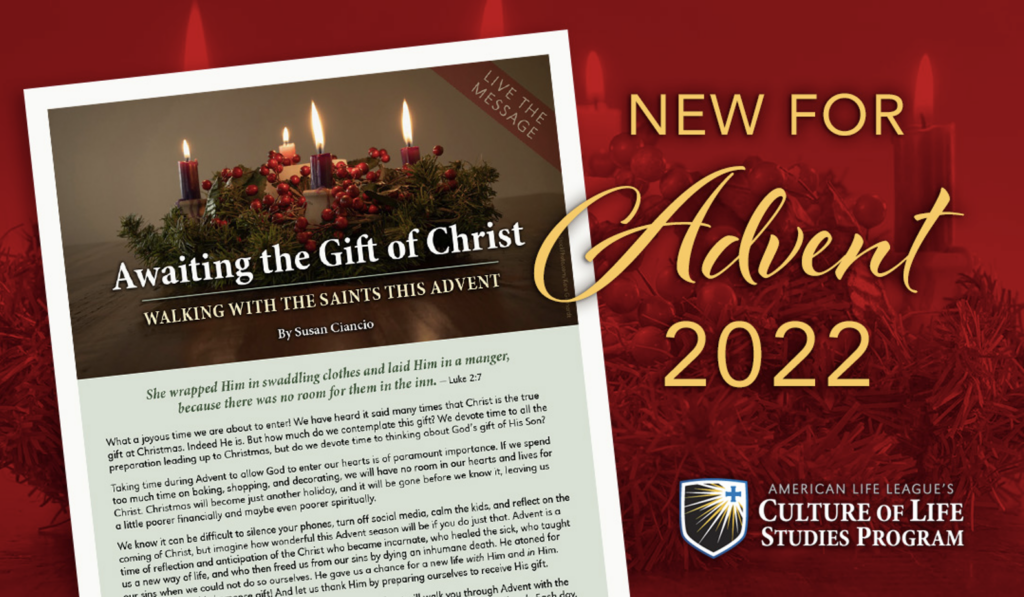 ---
Pro-Life Social Media

 – 'Delete Your Newspaper'; Journalist Presents Unpersuasive Photographic Evidence of 'Pregnancy'

Human fetal photography has been a valuable ally to the pro-life advocate. Whether the image depicted a human child living or dismembered, there was no denying the objective reality of who abortion's victim really is.

Now, proponents of preborn child killing have taken a page from the pro-life activist handbook. They're using photos to depict the human fetus as an amorphous collection of biological material. In other words, a blob of tissue.
What a pregnancy actually looks like at nine weeks – in pictures https://t.co/f0pgQ1Wgcb

— The Guardian (@guardian) October 19, 2022
See? The Guardian used the word "actually," so it must be true.
Except what they're showing isn't "actually" a pregnancy; it's a petri dish with human tissue. And the source of the images is, go figure, an abortion 'network of clinicians, activists and patients who want to normalize abortion care, medically and culturally.' Furthermore, if we were looking at a pregnancy, we would see the point of view inside the womb where, as you know, pregnancy actually happens.
The article presents a series of images of what can best be described as gestational sacs, not human embryos. But the propagandists want folks to believe our humanity is somehow related to our size.
Absolute liars!
Call yourself journalists?!
You need to apologise for this propaganda piece.
I look forward to the "factcheckers" taking this down.https://t.co/c60nGI1gsJ
Lennart Nillson photos:https://t.co/0oluSjmFBp

— SEF62💜 (@Sange1962) October 19, 2022
This is beyond pathetic @PoppyNoor. Writing a story about prochoice activists taking pics of bleached out gestational sacs without the embryos and fetuses is not helpful to women. It's dishonest.

— Becc (@BeccCobain) October 20, 2022
This is like photographing the placenta and saying that's what newborn babies look like.

— Br. Anthony Maria Akerman, OP (@AnthonyMariaOP) October 19, 2022
What a car crash actually looks like – in pictures pic.twitter.com/E4qb4PbQ66

— The Second Party Podcast (@2ndPartyPodcast) October 19, 2022
IDK, man. Showing pictures of empty amniotic sacs with the fetus removed seems like disinformation to me. Here are some real-life photos of the amniotic sac *and* the embryo/fetus ranging from weeks 7 to 10 of pregnancy: pic.twitter.com/xESAD0cZYn

— 𝓓𝓪𝓷𝓲𝓮𝓵𝓵𝓪 💕 (@SungieTheBunny) October 19, 2022
Where's the ministry of misinformation on this one?

— Mandalynnm23 (@mandalynns23) October 19, 2022
You're literally just lying. Delete your newspaper.

— Disciple of St. Thomas ❤️‍🔥 (@DiscipleOfTomAq) October 19, 2022
This was my 9 week ultrasound. I'm a bit confused by the pics in this article. pic.twitter.com/YF64yq0Hri

— J. S. Bailey (@jsbailey_author) October 19, 2022
Laughably dishonest journalism here.

— Jose A. Abell M. (@RealJoseAbell) October 20, 2022
---