Week in Review – The Missouri farrago, New York merger, aborted fetal tissue
The saga in Missouri over the only abortion facility in the state—Planned Parenthood in St. Louis—continues, as it seems the judge who is handling a suit by Planned Parenthood that seeks to prevent a shutdown is seemingly looking for a way to keep it open.
The state has now refused to renew Planned Parenthood's license on grounds of patient safety. The state maintains that PP has not corrected problems discovered in a state audit of its facility. The state also contends that the facility is unsafe—with over 70 women being transported to the hospital from the clinic. To prove its case to the judge, the state wanted all seven abortionists who work at the facility to testify in court. Two are employees of Planned Parenthood and the other five are independent contractors. The independent contractors claimed their attorneys told them not to testify because they would open themselves up for possible legal action. The judge ruled earlier this week that it would be an "undue burden" for the non-employees to testify and said they didn't have to come to court.
The proceedings keep getting delayed and, as we write this, PP has no license, but the judge has ordered that it be allowed to continue operating, and doing abortions, without a license until the end of the trial.
This week, the board of directors of Planned Parenthood of New York City voted unanimously to move forward with a merger with four other Planned Parenthood affiliates in the state. The combined operation will cover half of New York State's counties, and 65% of the state's population. The merger is expected to be completed by December of this year. You can see Jim Sedlak's detailed statistics and commentary on this merger by clicking here.
The big news out of the Trump administration this week was a change in the rules for government funding of research using aborted fetal tissue. ALL's president, Judie Brown, issued the following statement on the new rules:
President Trump's administration has officially ended funding for government-initiated (intramural) research that involves aborted fetal tissue. The president does not believe taxpayer dollars should fund research that promotes the murder of children. This is a milestone win for life and for all human dignity!
American Life League has consistently fought against any government funding of fetal tissue research and opposed the Bush administration's rules that allowed continued funding of research on existing cell lines.
The Trump administration policy, announced this week, is a major step in the right direction.
Unfortunately, it leaves the door open for government funding of privately initiated (extramural) research involving fetal tissue "on a case-by-case" basis.
Americans deserve life-affirming science across the board. There are better scientific alternatives than the organs of dead babies.
Aborted babies have been treated as experimental mice for decades. Their limbs, organs, and body parts are sold for experimentation. This disturbing practice, akin to Nazi concentration camp experimentation, must end. The president's administration is taking a strong step forward in ending this inhumane science, and we encourage him to step further.
All experimentation on aborted fetal tissue must end. It's about time our nation's scientific practices reflected those values and stopped rationalizing the cannibalization of human babies to further the advance of science and medicine.
---


ALL in the News – Judie makes national statement; STOPP Report reaches media
This week, Judie Brown released a statement regarding the Trump administration's decision to stop taxpayer funding for government-initiated (intramural) research that involves aborted fetal tissue.
"Aborted babies have been treated as experimental mice for decades. Their limbs, organs, and body parts are sold for experimentation. This disturbing practice, akin to Nazi concentration camp experimentation, must end. The president's administration is taking a strong step forward in ending this inhumane science, and we encourage President Trump to step further."
Jim Sedlak released a report on June 6, 2019, regarding major Planned Parenthood mergers in New York State. The report details major changes for the New York-based abortion providers and was released to an expansive media list.
"These (merged branches) will become Planned Parenthood of Greater New York and will operate 28 clinics and have an annual income of $103,922,552."
Jim Sedlak's Pro-Life Activism from Creation to Death is a weekly talk-radio program on the Radio Maria USA network. The show can be heard live every Friday at noon (Eastern Time) and is repeated on Saturdays (10 PM) and Mondays (10 PM).
---


Video of the Week – A baby born at 23 weeks breaks—defies—doctors' expectations to live
From Inside Edition:
"She's only 5 months old, but this baby is already breaking records. Saybie is believed to be the world's smallest surviving baby. She was born at just 23 weeks and three days, weighing just over half a pound. While her family is rejoicing now, Saybie's mother said getting to this point wasn't easy. Since babies are typically born at 40 weeks, the staff at Sharp Mary Birch Hospital in San Diego wasn't optimistic the child would live. InsideEdition.com's Mara Montalbano has more."
---


Action Item of the Week – Catholic priests in California threatened with jail
We are all becoming more aware that Christians, in general, and Catholics, in particular, are being threatened by a society being run by satanic forces.
As you read this, the state of California is trying to pass Senate Bill 360, a proposed state law that would force priests and other religious ministers to report suspected cases of child abuse in violation of priest-penitent privilege. In other words, the government of California wants to unilaterally do away with the seal of confession!
California bishops are outraged. Bishop Michael Barber, S.J., of the Diocese of Oakland, California, said: "I will go to jail before I will obey this attack on our religious freedom. Even if this bill passes, no priest may obey it. The protection of your right to confess to God and have your sins forgiven in total privacy must be protected. I urge you to contact your State Senator today to protest this bill."
The bill passed the California Senate on May 23 by a 30-4 vote. Here is the official vote tally:
Ayes: Archuleta, Atkins, Beall, Bradford, Caballero, Chang, Dodd, Durazo, Galgiani, Glazer, Hertzberg, Hill, Hueso, Hurtado, Jackson, Leyva, McGuire, Mitchell, Monning, Nielsen, Pan, Portantino, Roth, Rubio, Skinner, Stern, Umberg, Wieckowski, Wiener, Wilk
Noes: Bates, Grove, Jones, Stone
No Votes Recorded: Allen, Borgeas, Moorlach, Morrell
According to Canon Law, priests who violate the seal of confession by sharing anything learned within the sacramental context to anyone, at any time, for any reason, is subject to automatic excommunication and further punishments, including loss of the clerical state.
We ask you for two actions this week:
First, the bill is now in the State Assembly. We ask you to contact any and all members of the Assembly in California and tell them to vote "NO" on Senate Bill 360. You can find a complete list of the members of the Assembly by going to assembly.ca.gov/assemblymembers.
Second, join in the national Religious Freedom Week being held from June 22-29 in Catholic dioceses and parishes across the nation. This is being sponsored by the United States Conference of Catholic Bishops. To find out what is happening in your area, contact your local churches or diocese.
If you ever questioned whether our religious freedom was being threatened in America, California Senate Bill 360 should answer all your questions.
EVERYONE MUST TAKE ACTION NOW, OR YOUR ABILITY TO FOLLOW YOUR RELIGION MAY BE TAKEN AWAY FROM YOU!
---

Pro-life Social Media – Creative pro-lifers serve pro-abortion pop singer a slice of reality
A compelling argument has a plausible premise. It uses sound reasoning to defend it. If the argument is built on a flimsy or faulty principle, then you have to resort to any of the logical fallacies. But celebrities aren't even good at those, so they appeal to illustration rather than any meaningful thought.
Miley Cyrus, whose name used to be associated with Disney television, has become the face of cultural poison. (If you're going to live as if there's no heaven or hell, you live like Miley.) This week Miley published an Instagram photo promoting the largest purveyor of human casualty—Planned Parenthood.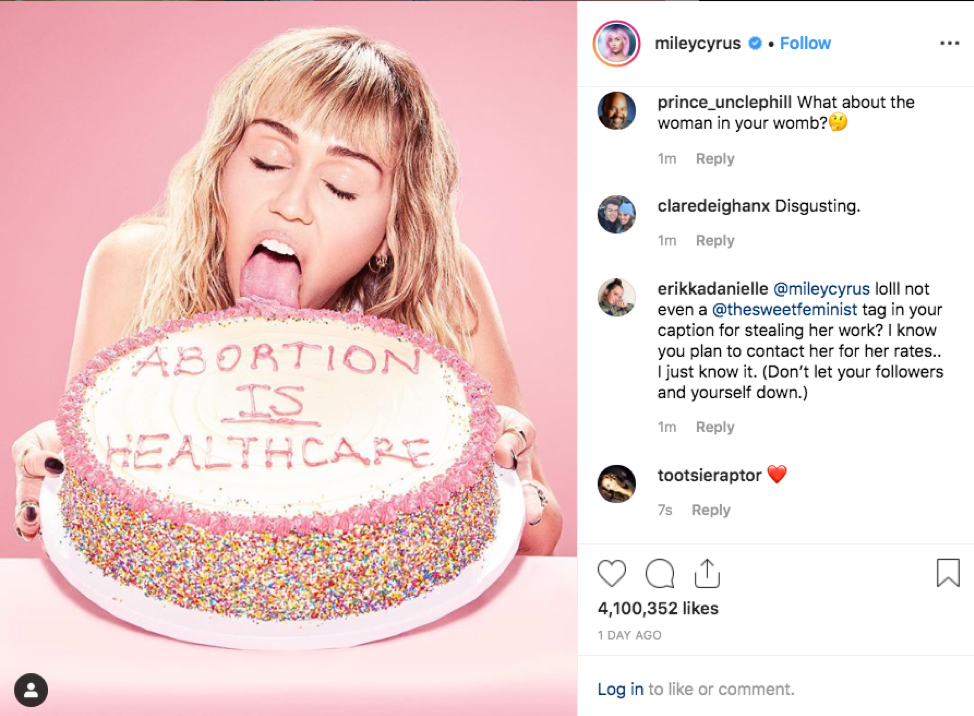 Fetal murder as 'healthcare' is the kind of doublespeak Planned Parenthood relies on to justify its existence. Miley's cake celebrates it, much to the adulation of her fans—sadly. But sensible and creative people gave Miley the photoshop treatment to better illustrate the very thing she's promoting.
fixed it pic.twitter.com/eBh5DC6b7N

— Cassy Phillips (@CassyFilms) June 6, 2019
The cheeky social media team at Daily Wire is spilling tea 😜 pic.twitter.com/AEzqB7qNCf

— Art Tavana (@arttavana) June 4, 2019
Celebrity racism, smh. pic.twitter.com/bVdvwddgDm

— Federalist Musket🇺🇸 (@Patriot_Musket) June 4, 2019
Fixed it for you @MileyCyrus pic.twitter.com/G5LlILADLQ

— Brenna Spencer (@BrennaSpencer) June 5, 2019
@MileyCyrus Your cake was a little off so I fixed it.@PPFA pic.twitter.com/yqKclf2IZt

— Christine(Former embryo) (@CatholicAwesome) June 4, 2019
Fixed it for ya, girl. ⁦@MileyCyrus⁩ pic.twitter.com/iBBpSqedeb

— Bee 🐝 (@infobee) June 5, 2019
fixed it pic.twitter.com/sI4Qb55wXo

— Josiah Berggren (@KewlNerd20X6) June 4, 2019
Our reaction is best told by our modified version of a popular animated gif:
Things to do with Miley's cake: pic.twitter.com/JNLJ2cPHs0

— American Life League (@AmerLifeLeague) June 6, 2019