Week in Review – Valentine's Day and Planned Parenthood—Two Things That Should Never Go Together
When we think of Valentine's Day, the things that come to mind might include roses, nice chocolates, and spending time with loved ones. However, for some, fundraising for abortion giant Planned Parenthood is synonymous with the national day of love. If you're scratching your head in confusion, you're not alone.
Leading up to February 14, Planned Parenthood and various local fundraisers are calling for volunteers and donations to aid the abortion machine. Planned Parenthood Alliance Advocates-East posted on Twitter calling for volunteers in a way that mocks Valentine's Day and the value of life: "Roses are red, violets are blue, to protect reproductive freedom, we need volunteers like you!"
Another PP affiliate, Planned Parenthood South Dakota Advocate, posted on Twitter with a fundraiser called "I heart Planned Parenthood." According to the fundraiser page, "Your gift on I [heart] Planned Parenthood Day ensures essential sexual and reproductive health care—like STI testing, transgender hormone therapy, and abortions—are available to South Dakotans. It ensures comprehensive, culturally specific sex education is available across our state. And it fuels advocacy for sexual and reproductive health care for all."
It's clear that Planned Parenthood will leverage just about anything to make a buck.
Various local groups and businesses are hosting Valentine's Day events where proceeds are donated to Planned Parenthood. The most obscene and offensive event, dubbed "The Village of Love," being held in New York, is a concert benefiting Planned Parenthood where a line-up of 24 women will sing their favorite love songs.
The irony here is that women will be singing love songs in honor of a business designed to kill children and destroy women. Planned Parenthood makes its millions of dollars by preying on vulnerable mothers. The lies of PP tell women that "love" means being able to kill your child. But real love, and true love, is selflessness.
We see the perfect example of selfless love in our Lord on the cross, in mothers who sacrifice for their children every day, and in fathers who work hard to provide for their families.
Valentine's Day should be reserved for celebrating real selfless love, not the selfishness and evil of money-hungry Planned Parenthood and its abortion proponents.
---
ALL in the News – World Magazine Features ALL Executives; Biden's SCOTUS Pick Parallels PP Statistics; MBW Announces February Intention; Judie Brown Featured as Guest Commentator on Life Site News
At the 2022 March for Life, World Magazine interviewed ALL's executive vice president Hugh Brown and ALL's Marian Blue Wave director Katie Brown. The pair discussed March for Life founder Nellie Gray and what the March might look like post Roe. The article can be found online here and will be printed in the February 12 edition of World Magazine.
Following President Biden's comments regarding his pick for a new SCOTUS nominee, American Life League released a statement pointing out that because of Planned Parenthood, which Biden vehemently supports, 40% of the Black population has been aborted. Therefore, Biden's SCOTUS pick might have been one of the victims. The statement has been featured, so far, by Charisma News.
Last week, the Marian Blue Wave announced its intention of the month for February: Tennessee's one mega Planned Parenthood facility in Memphis. The announcement was sent to the nearly 5,000 prayer partners and a list of local media affiliates. The announcement was also posted to various Patch sites, found here.
Last Friday, Judie Brown was featured as a guest commentator on Life Site News. Her op-ed featured her take on Biden and his SCOTUS nominee. The article can be found here.
Just in case you missed one of these, here are the top 5 most-read Judie Brown Commentaries from 2021:
---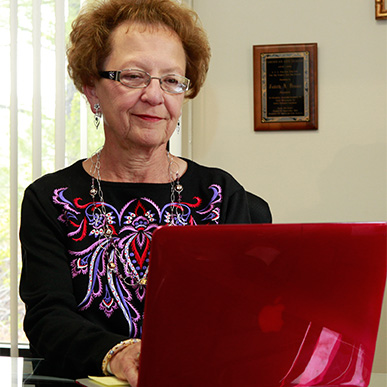 Twice a week, Judie Brown's commentaries are distributed to an expansive media list. The list contains over 100 media outlets such as Fox News, The Federalist, Breitbart, and The Daily Caller, among others. Judie's Tuesday commentary, Arbiters of Good and Evil, was featured on the front page of ALL.org. Each commentary is also featured as a part of Judie's recurring column on Renew America. 
---
Video of the Week – The No-Exceptions, Pro-life Position
Last week, BEK TV's "Ladies of Another View" asked American Life League to discuss the no-exceptions, pro-life position. ALL's Public Policy director, Dwain Currier, explains below. https://www.facebook.com/plugins/video.php?height=314&href=https%3A%2F%2Fwww.facebook.com%2FAmericanLifeLeague%2Fvideos%2F2221359598030445%2F&show_text=false&width=560&t=0
---
Action Item of the Week – New From CLSP: Lenten Reflections for 2022
ALL's Culture of Life Studies Program's 49-page daily Lenten reflection booklet focuses on the gifts of the Holy Spirit.
Each day's entry begins with a Bible verse that discusses one of the gifts of the Holy Spirit. We then offer a brief reflection of this verse. After that, we write a short biography of the saint of the day and explain how that saint used the gifts of the Holy Spirit to build a culture of life. We follow that up with suggestions for how you can use this example to build a culture of life in your own home or community. Finally, we provide a suggestion for a short activity that you can partake in to further your understanding or knowledge of Church history or teaching.
To order the Lenten booklet, visit the CLSP store online here.
God's greatest gift to us was Christ's death and resurrection. This redemptive act was for you, for me, and for all of us so that we could spend eternity with Him.
This Lent, let us help you grow closer to God and grow stronger in faith.
---
Pro-life Social Media – 'Your Moral Compass is Out of Whack'; Another Hollywood Mother Admits to Abortion Violence
Abortion apostles are married to the idea that killing a preborn child is no different than having a tooth extracted. If this were true, then why do so many post-abortion mothers pen 1000-word op-eds describing their experiences? This is part of the feminist's self-defeating campaign to "end abortion stigma." But who's submitting columns to the Daily Beastdescribing their mole removal?

Case in point. Actress Milan Vayntrub wants everyone to know that participating in the death of her preborn child was no big deal.
"I wouldn't wish the labor pain I experienced on anyone. Okay, except maybe the politicians who continue to use their power to try to strip us of our rights," writes @MintMilana https://t.co/TUJixaa9vc

— The Daily Beast (@thedailybeast) February 8, 2022
See? She wouldn't be adored by fans had she not exterminated the vulnerable, tiny person she carried inside her.  
Wow thank you for sharing. It must've been difficult.

— Ryan T. Loy (@MakanaBoy) February 8, 2022
Why would it be difficult, unless there's something intrinsically wrong with preborn-child sacrifice?  
What an awful response to pregnancy and motherhood. Vile and disturbing

— Patrick Burger (@PatrickBurger12) February 8, 2022
But this shouldn't surprise us, if they're going to treat the preborn child as a disposable object.
Can you really be surprised that an actor would have this attitude? It's all about their desires, their wants, their needs. She wanted a child so she deemed that one worthy to live in her presence. The "mistake" can get thrown in the trash. Truly sickening.

— CyberFrog88 (@CyberFrog88) February 8, 2022
Strip you of your right to kill your baby. Liberals never finish the sentence.

— W. david ferguson (@Wdavidferguson) February 8, 2022
You're confused, at one point you say abortion is a Constitutional right, then you say it's a privilege. Abortion is the killing of a human baby. Simple and brutal as that, your moral compass is a little out of whack. Never convince me that ???? is not a baby pic.twitter.com/acm3pd2Cb5

— daoc15 (@daoc151) February 8, 2022