Planned Parenthood always wants to be in on any action. Because of that, it just couldn't ignore the current situation where families that are trying to enter the United States illegally. When caught by US authorities, the adults are arrested and the children are placed in a protective environment—separate from the parents.
On Father's Day, Planned Parenthood issued the following tweet:
In our hearts and minds today: all of the fathers and parents who have been separated from their children at borders. Keep families together. #FathersDay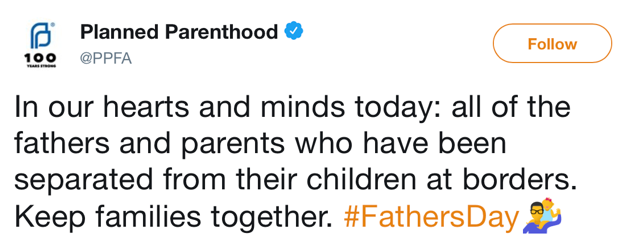 It was a case of Planned Parenthood trying to make news about an issue being talked about in the media.
The Internet erupted almost immediately.
Hundreds (some say thousands) of people immediately condemned Planned Parenthood for being the hypocrites they are. Some of the tweets from ordinary people included:
Planned Parenthood knows nothing about keeping families together. Main goal is to destroy families. Especially African Americans. One of the most racist organization on the planet
wow such hypocrisy
That's rich coming for you!! How many babies are murdered each year? You don't consider that as being separated from a parent???
Your organization literally prevents people from becoming fathers and parents.
What about all the fathers that never got to meet their kids because you performed abortions without their consent or knowledge?
Of all the groups to comment on this I can't believe that Planned Parenthood felt this was appropriate. Do they not know what they do?
Says an organization separating children from parents through abortion…
Trust Planned Parenthood on this, they've been experts at permanently separating kids from their parents for decades.
The shamelessness of this evil group talking about separating parents & children
People are really beginning to understand what Planned Parenthood does, and they are not happy about it. For all those who have been fighting Planned Parenthood for years, keep up the pressure and the education. You are making a difference.