By Judie Brown
The truth—according to the magisterium of the Catholic Church—is that the body and blood of Christ are actually present in the sacrament of the Eucharist. The Catechism of the Catholic Church states:
The mode of Christ's presence under the Eucharistic species is unique. It raises the Eucharist above all the sacraments as "the perfection of the spiritual life and the end to which all the sacraments tend." In the most blessed sacrament of the Eucharist "the body and blood, together with the soul and divinity, of our Lord Jesus Christ and, therefore, the whole Christ is truly, really, and substantially contained." "This presence is called 'real'—by which is not intended to exclude the other types of presence as if they could not be 'real' too, but because it is presence in the fullest sense: that is to say, it is a substantial presence by which Christ, God and man, makes himself wholly and entirely present."
This is a fundamental teaching for every Catholic but in a special way for ordained priests. In the encyclical Ecclesia De Eucharistia, St. John Paul II taught: "If the Eucharist is the center and summit of the Church's life, it is likewise the center and summit of priestly ministry. For this reason, with a heart filled with gratitude to our Lord Jesus Christ, I repeat that the Eucharist 'is the principal and central raison d'être of the sacrament of priesthood, which effectively came into being at the moment of the institution of the Eucharist.'"
Understanding this extraordinary relationship between the Catholic priesthood and the Eucharist causes some of us to ask, Why is it so difficult for ordained priests and deacons, including bishops, to obey Canon Law and deny the Eucharist to public figures who support flagrant violations of God's law, such as abortion, contraception, and homosexuality? In our day and age, it is exceedingly difficult to find a bishop who has publicly said he would deny the Eucharist to pro-abortion zealots, including Joe Biden, presumptive Democrat nominee for president.
The exception to this occurred last October in the Diocese of Charleston, South Carolina. That diocese has a policy that "requires priests to withhold the Eucharist from politicians and political candidates who support legal protection for abortion."
So when Biden approached Fr. Robert Morey of Saint Anthony Catholic Church in Florence, Morey refused to give Biden the sacrament.
But what a shame it is that this is the only example of such obedience to Catholic Church law that we could find over the past several months.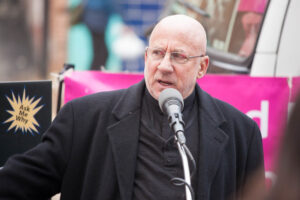 Pro-life Catholics should hold Catholic elected officials to a higher standard commonly known as the infallible truth. So when a dear friend and pro-life activist, Fr. Stephen Imbarrato, founder of Life Ministries U.S., sent a communication to me that addresses this problem, we chose to share it with you. Father suggests:
Send your bishop a letter marked "Personal and confidential" with a short note that asks:

Your Excellency, Please guide me in understanding how any Catholic does not commit the grave sin of scandal by voting for Joe Biden. The CCC (Catechism of the Catholic Church) 2284-2287 seems quite clear that the power of our vote sends a message that his rejection of Catholic teaching in so many issues is ok instead of grave sinfulness. And this has nothing to do with non-Catholic Trump. I want to know about Biden and scandal. Thank you. I await your response.
Father recommended pointing out to your bishop, and I would add your pastor as well, facts about the allegedly Catholic Biden in order to refresh the bishop's or pastor's memory:
Biden is not only pro-abortion, but he favors Planned Parenthood and takes no issue with its sale of aborted baby body parts.

He supports homosexual rights organizations.

He is opposed to Church teaching on contraception.
In summary, Mr. Biden has divorced himself from the Catholic Church and her moral teachings and is doing so in a very public way. Yet the bishops cannot seem to find the courage to stand up and defend truth, explain what it means to be Catholic, and literally toss the evil among us out of the temple as (John 2:12) Christ did.
No wonder the likes of Pelosi, Durbin, Biden, and so many others sneer at Christ and proclaim their Catholic identity only when it suits them. Such hypocrites should be educated into repentance by their bishops.
Please write to your bishop today. Maybe he is having trouble proclaiming the truth, but through our persistent prayer, action, and pestering we can encourage him.
After all, every child of God has a soul, and each deserves to be taught why the trouble with truth is that it can save your soul for all eternity.