By Karen Mahoney
In January 2021, the COVID-19 pandemic that shuttered schools, churches, and businesses also changed the March for Life Chicago. But its organizers would not be thwarted, and they came up with an exciting alternative!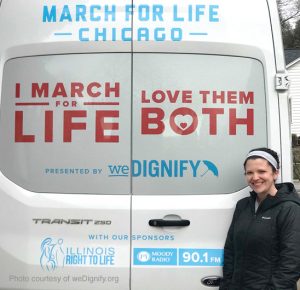 WeDignify—the Champagne-based pro-life group that organizes the march and that also mentors college students as they strive to become pro-life leaders—utilized the pandemic restrictions to create a unique event in lieu of the normal march activities.
Instead of marching through the streets of Chicago, weDignify called for car rallies and car processions in six cities in the states of Wisconsin, Nebraska, Indiana, and Illinois. This event—Moving the Movement—was more successful than anyone could have imagined.
In addition to the car rallies, weDignify sought to collect 130,094 diapers to donate to local pregnancy resource centers. This number represents the number of babies aborted annually in the Midwest. Incredibly, their efforts brought in even more diapers than expected!
COVID couldn't stop them
Anna Kinskey, associate director of weDignify, spoke to American Life League's executive director, Jim Sedlak, during his January 18, 2021, Radio Maria program Pro-Life Activism from Creation to Death (all.org/audio). Kinskey spoke about how the car rally was conceptualized, and she emphasized the group's determination to not allow COVID restrictions to force them to take a year off from the annual march. She explained that the march in 2020 had garnered such interest that they just didn't want to see that passion die.
To read the remainder of this article, visit clmagazine.org/topic/pro-life-champions/moving-the-movement-a-2021-march-for-life-alternative.
To read other inspirational pro-life articles, visit the Celebrate Life Magazine website.