Pro-Life This Week – October 2, 2020
Week in Review – Confirmation process; presidential debate; Election Day 
In towns and cities across the country this week, it was business as usual. Over 16,000 mothers went to abortionists to end the lives of their preborn children. Statistically, 9,600 went to one of the 463 surgical abortion facilities and 6,400 obtained the abortion pill at one of those centers or one of the 256 abortion-pill-only killing centers. These abortion-pill mothers left the facilities and their preborn child died, most likely, in a hotel room or at home. The dead child was probably flushed (warning: graphic image) down a toilet.
This was a typical week in 2020 America.
This is the carnage that is faced every day by the unsung heroes of the pro-life movement—those on the front lines, the sidewalk advocates, the Red Rose Rescuers, the pregnancy help centers, the 40 Days for Life participants, and the thousands of church members who are involved with prayer services and prayer trees with little or no fanfare.
With this as background, this week saw a great deal of activity from those who are hoping to change the daily body count in the United States by working from the top.
Decriminalized child killing was unleased in the United States by a 7-2 vote of the Supreme Court (SCOTUS) in 1973. Since that time, the Court has not been able to undo that horrible, deadly decision. In the last four years, there have been two vacancies on the court and President Trump has replaced them with individuals we hope will support the babies. Now, God has provided the president with a third opportunity and he has named Amy Coney Barrett, a woman described by her peers as a fantastic choice. She is currently a judge on the district court. She is also a mom. She and her husband are raising seven children; two are adopted from Haiti and the youngest has Down syndrome. She is one of us and is currently in the middle of a confirmation process that is scheduled to conclude by October 29. Could this be the beginning of the end? Only God knows.
The first presidential debate took place this week and it was disappointing that the word "abortion" was never mentioned throughout the entire debate. COVID-19 was mentioned 17 times. COVID-19 has killed an estimated 200,000 people in America this year. Surgical and medical abortion has taken the lives of an estimated 624,000 people in America this year. It is very disappointing that nobody saw fit to address the greatest killer in the nation.
Officially, Election Day 2020 is just a month away—on November 3. Many states have absentee balloting either in person or by mail. A number of these states are already accepting votes. The prediction is that, because of COVID-19, and the fear of large crowds and long lines on Election Day, a greater number of people will use the absentee and mail-in voting options this year. Thus, in a very real sense, the 2020 elections have already begun. If you were waiting until the election "got closer" to discuss the differences between the candidates with your family or friends, wait no longer. The time is now.
IMPORTANT: We began this section with information about the Supreme Court and the positive view we have of the proposed nominee. It must be noted, however, that the number of justices on the Supreme Court is not specified by the Constitution of the United States. Instead, it is set by Congress. The number of justices changed several times in the first hundred years of this country. It was originally six justices in 1789, seven in 1807, nine in 1837, 10 in 1863, and back to nine in 1869. There has been talk this year that if the Democrat party gains control of the presidency, the House and the Senate, as a result of this election, might increase the number of Supreme Court justices in 2021 and then appoint enough liberal justices to regain control of SCOTUS. This strategy is known as "packing the court."
The topic was brought up in this week's presidential debate when the moderator asked Biden, "So my question to you is … are you willing to tell the American tonight whether or not you will support either ending the filibuster or packing the court?" After some back-and-forth between Biden and Trump, Biden said, "I'm not going to answer the question."
Remember, you are not only selecting the president, but one-third of the Senate and the entire House. Voting has consequences.
---
ALL in the News – HISTORIC Pro-Life Victory Webcast Announced; Judie Brown Praises Amy Coney Barrett
Wednesday morning, American Life League announced a webcast that will be held by the Marian Blue Wave team. The webcast, The Tide is Turning – A Pro Life Victory, will announce a historic victory in the fight against Planned Parenthood on October 7, 2020. Judie Brown invited over 20 thousand people to attend the event, and hundreds have registered already.
Early this week, Judie Brown released a statement praising SCOTUS nominee, Amy Coney Barrett. Brown is hopeful that Barrett will be a strong Christian voice if appointed to the court. The statement was sent to a media list of over 100 contacts, including Fox News, The Daily Wire, and various other media outlets. The statement can be read here.
Every Friday afternoon, the American Life League social media team—Dwain Currier and Katie Brown—host the Friday Live Show on Instagram Live. Last Friday, the duo discussed three reasons why SCOTUS nominee Amy Coney Barrett would make an excellent addition to the court. This week's show will premiere this afternoon on American Life League's Instagram account. Replays of the show can be found on Facebook.
This week, American Life League vice president, Hugh Brown, was interviewed by political commentator and former presidential candidate Alan Keyes. The interview will appear on the show "Let's Talk America with Alan Keyes".
---
Video of the Week – 3 Reasons Barrett Would Make a Good Justice
In this week's Re:Stream, we were informed that "voting blue" in 2020 would save a million babies. How is this possible? Also, we give three reasons why Judge Barrett would make a great addition to the Supreme Court.
---
Action Item of the Week – The Tide is Turning: A Pro-Life Victory
After only one year of operation, and thousands of commitments later, the Marian Blue Wave has accomplished a historic victory in the fight against Planned Parenthood. 
 
Bishop Joseph Strickland will be one of the special guests next Wednesday, October 7, for a global anniversary webcast event where we will announce a historic victory in the fight against Planned Parenthood and abortion.
 
The exclusive online event is called "The Tide Is Turning: A Pro-Life Victory."
 
Here are the details: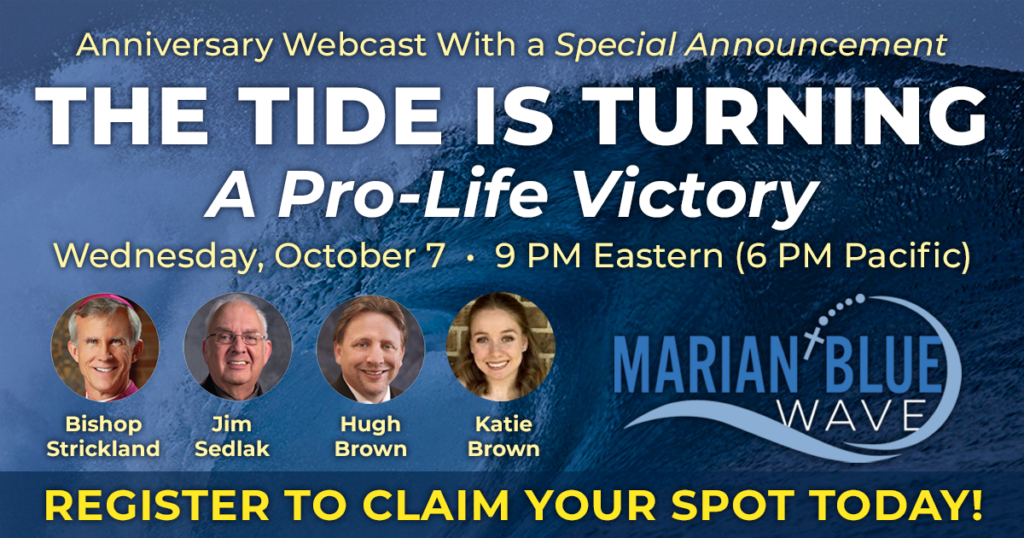 WHAT: "The Tide Is Turning: A Pro-Life Victory"
DATE: Next Wednesday, October 7
TIME: 9 PM Eastern (8 PM Central, 7 PM Mountain, 6 PM Pacific)
REGISTER TO ATTEND AT all.org/event 
During the webcast, you'll hear from:
Katie Brown, Director, Marian Blue Wave
Bishop Joseph Strickland, Diocese of Tyler, Texas
Jim Sedlak, Founder, STOPP International
Hugh Brown, Executive VP, American Life League
During our time together, you'll learn:
The history of the Marian Blue Wave: A strategic approach to ending Planned Parenthood and abortion that does not rely on laws or politicians
The accomplishments the Marian Blue Wave has made over the past year, including a HUGE victory
Personal testimonies and insight from pro-life heroes, including Bishop Joseph Strickland of Tyler, TX
Register to attend the webcast at all.org/event.
---
Pro-life Social Media – Deny the existence of systemic racism and you're criticized as having "white privilege."
Deny the existence of systemic racism and you're criticized as having "white privilege." Does that mean that the denial of anti-Catholic bigotry is "gnostic privilege"?

Blue-checks on Twitter were quick to denounce any semblance of anti-Catholicism against President Trump's SCOTUS nominee, Amy Coney Barrett. It's as if Senator Feinstein's comment, "The dogma lives proudly in you," never existed. Progressives love to erase history.
Once Twitter was alerted to Trump's pick last weekend, the anti-Catholicism came out shrouded in "honest criticism."
Deleted tweet from @arlenparsa: "Amy Coney Barrett is a Catholic extremist with seven children" who "wants the rest of American women to be stuck with her extreme lifestyle." pic.twitter.com/0O21TsUdO7

— Mary Margaret Olohan (@MaryMargOlohan) September 21, 2020
See? Being a practicing Catholic who adheres to the teachings of the faith makes you "extreme." Hedonism grants you immunity from criticism. 
The problem isn't that Amy Coney Barrett is Catholic. It's that she has religious extremist views & has publicly stated that those views motivate her legal work. She wants laws to be based on her religious beliefs, which means she has no interest in an America for all of us.

— Ben G ★ (@softreeds) September 26, 2020
If she's a Catholic who adheres to the faith, and that adherence is strict, then your problem is with her Catholicism.  Naturally, the anti-Catholic "Catholics for Choice" weighed in.
We urge the Senate to protect the religious freedoms and civil rights of all Americans by rejecting the nomination of Amy Coney Barrett to the Supreme Court.

— Catholics for Choice (@Catholic4Choice) September 26, 2020
Heretical Catholics for Choice idolizes conscience as the preeminent voice of morality. Church teaching is a suggestion, and whatever anyone believes about anything is paramount, so long as his or her conscience guides it, no matter how distorted it may be.
Guys, The Democrats are so anti Catholic that their nominee Biden is…a practicing Catholic. Obama nominated Sotomayor, a Catholic. Many Dem senators are…Catholic.

Go ahead Republicans. Try to bring that into this Amy Coney Barrett hearing.

— Wajahat "Wears a Mask Because of a Pandemic" Ali (@WajahatAli) September 26, 2020
Progressives have designated themselves as gatekeepers of truth. You're not Catholic unless you're their kind of Catholic. You're not pro-life unless you're their version of pro-life. If you fail to fit the media's definition, you're an extremist. 
Amy Barrett supported the organization which "has said that life begins at fertilization and that discarding unused or frozen embryos created by IVF ought to be criminalized" – a position extreme within the anti-abortion movement.

— Cecile Richards (@CecileRichards) October 1, 2020
"Extreme." So says the former CEO of the nation's largest racist abortion provider, Planned Parenthood.