ALL Reaches Out to Our Youth during the Pandemic – Changing Minds and Hearts!
As people shelter in place across the nation, they spend time alone, with a roommate, or with a limited few family members. For adults, it can mean working from home, doing household projects, caring for little children, or catching up on TV and recorded movies. However, teens and young adults often find themselves in a situation where they feel isolated, so they reach out for friends on social media like Facebook, Twitter, and Instagram.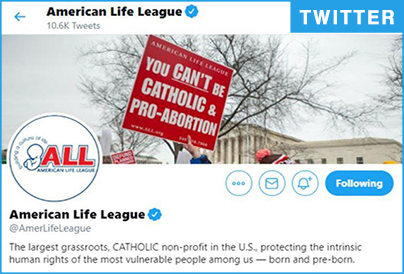 While using social media, youth are often exposed to confusing messages posted by abortion-defending friends as well as pro-abortion entertainers, advertisers, and the abortion lobby of mainstream media producers. However, thanks be to God, youth and young adults can also find American Life League on all the major social media platforms. We spread the pro-life truth and provide answers to important questions they have about the value of human life from creation to natural death.
ALL makes a real difference in the lives of our youth through its presence on social media. That includes our custom-made videos that respond to the pro-abortion rhetoric that confuses young people who are searching for truth among the lies of a culture of death. Planned Parenthood and other evil purveyors of abortion prey upon the minds and hearts of our youth so as to encourage them to join the so-called "pro-choice" movement. It is often only by reaching out to our youth and young adults through social media that we can ever have the opportunity to counter the lies of those who tell them that it is perfectly "okay" to kill a baby, and that it is an act of mercy to plan for euthanasia of the elderly and assisted suicide for those who are feeling lonely, hopeless, or depressed and want to die. The culture-of-death agenda seeks out our youth to poison their minds and hearts with a selfish lack of concern or compassion for the lives of even the most innocent.
If American Life League is unable to use social media and videos to reach our youth to guide them to the truth of a culture of life, then who will do it? ALL MUST be there as a light of Christ so kids will turn away from the culture of death and become the generation that wants to save lives!

We know you can't be on social media to talk with youth to change their hearts as we do, but your support is crucial for our work to continue during this crisis. Please be generous.
Thank you!
---