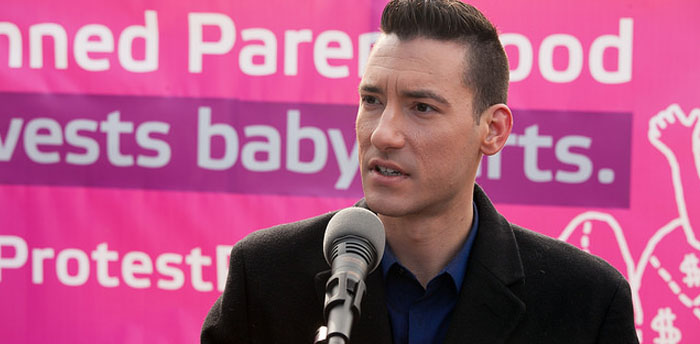 American Life League Statement on Indictment of Daleiden & Merritt
Washington D.C.: American Life League president Judie Brown has issued a statement regarding the grand jury indictment of two Center for Medical Progress employees following an investigation of Houston's Planned Parenthood Gulf Coast. Charges against the abortion chain have not yet surfaced despite evidence of involvement in the illegal sale of aborted baby parts. Named in the indictment are CMP head David Daleiden and Sandra Merritt, a CMP employee.
Daleiden and Merritt were charged with one felony related to tampering with a governmental record and a misdemeanor count related to buying human tissue. The felony charge was in reference to the actors' ID cards that were similar to California drivers' licenses and that were used in conjunction with their efforts as investigative journalists to expose the illegal practices of Planned Parenthood and its affiliates.
On behalf of American Life League, Judie Brown issued the following statement:
The grand jury indictment against David Daleiden and Sandra Merritt of the Center for Medical Progress reminds me of a kangaroo court activity. It was in a January 1985 article that New York Daily News' reporters Marcia Kramer and Frank Lombardi wrote: "In a bid to make prosecutors more accountable for their actions, Chief Judge Sol Wachtler has proposed that the state scrap the grand jury system of bringing criminal indictments. Wachtler, who became the state's top judge earlier this month, said district attorneys now have so much influence on grand juries that 'by and large' they could get them to 'indict a ham sandwich.'"

The evidence against Daleiden, as reported by the mainstream media, may or may not be valid, but lest we forget that the prosecution in this case is a district attorney's office that has a Planned Parenthood board member as a prosecutor. It is really not surprising, then, that a grand jury run by such an office would find the activities of an organization, Planned Parenthood by name—an organization infamous for its sordid history of aborting babies and advocating for this crime against the laws of God—blameless while trying to silence those who want to protect every human being's life.

Oh yes, this is the United States, and yes the killing of preborn children is not against the law, but that is all the more reason to hold any charges against Daleiden suspect. At least that would be the case in a morally sane judicial system.

As these procedures move forward, we call for a thorough examination of the case and concur with the analysis done by the Gospel Coalition that explains, "If the prosecuting attorney decides to move forward on the charges, then Daleiden and Merritt may be able to accept a plea agreement or request a trial. A state trial would determine whether they would be convicted of a crime and what punishment they would face."

In the interim, we protest the grand jury findings as being of a suspicious nature given the clear and convincing evidence that has surrounded Planned Parenthood and its practices for numerous years. The wrong organization went on trial and the wrong people have been found worthy of an indictment.

Let us hope justice ultimately prevails and other district attorneys throughout the country have the fortitude to bring the real purveyors of crimes against humanity—Planned Parenthood—to justice!
Judie Brown, president and cofounder of American Life League, has served three five-year terms (1996–2011) as a member of the Pontifical Academy for Life. She has written 12 books, including the most recent entitled The Broken Path: How Catholic Bishops Got Lost in the Weeds of American Politics (2011) and Saving Those Damned Catholics: A Defense of Catholic Teaching (2007).
Media contact: Interview requests are welcome. For additional queries or more information about ALL's programs, contact Matt Wielgos, chief communications officer of American Life League, at 540-846-3822. E-mail requests to [email protected].