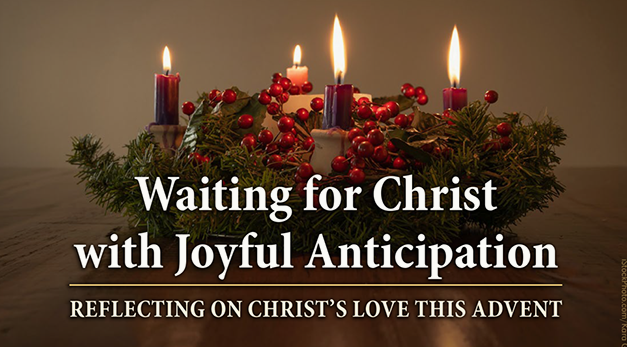 5 Reasons to Celebrate Advent with Our Daily Reflection Guide
By Susan Ciancio
It's almost Thanksgiving! And you know what that means: Advent is right around the corner.
Advent is a time of preparation. The four weeks leading up to Christ's birth should be weeks during which we contemplate God's love, His sacrifice, and His gifts. Further, we should strive to fill each day with joyful contemplation or joyful acts as we prepare ourselves for His coming.
This exciting time of year is filled with the buying of gifts, with making plans, with baking treats, and with traveling. While all those things are wonderful, we cannot forget that these blessings come from God.
To help you get the most out of this Advent, the Culture of Life Studies Program has created a downloadable family "calendar" booklet—a daily reflection guide intended to be read aloud each day as a family. This fantastic resource will help you and your family grow closer to God and to each other as you await the coming of our Lord.
So take a look! Below are five reasons why our reflection booklet will enhance your Advent and get you excited about the true meaning of Christmas.
1. It provides a daily scripture verse.
We have carefully chosen verses pertaining to Christ's birth to help you reflect on the immense love God has for us.
2. It offers a short reflection of this Bible verse.
To help you and your family really feel a part of Christ's birth, we include a short reflection about each verse.
3. It teaches about the saint of the day.
We give a short bio of the saint, then explain how he built a culture of life within his own community, and we offer suggestions for how you and your family can emulate this saint.
4. It suggests a fun family activity for each day.
This activity varies each day and could be anything from a few scrambled words to instruction for a way to reach out in charity to people within your community, to a special baking activity, or something else exciting. Each activity is a fun way to extend the lessons you learned in the reflection or in the reading for the day.
5. It can help begin conversations.
Talking about God, His love for us, and His commands should be something that comes easily, but sometimes it's actually really hard. Reading this daily guide aloud as a family will help open up doors you didn't even know were closed! You'll be amazed at the discussions you'll have.
The greatest gift we have ever received is Christ's incarnation, death, and resurrection. So, as we prepare for Christ's coming, let us take action to ensure our readiness.
Taking the time to pray and learn as a family will enrich our Advent season and help us see what's truly important. Further, it will bring us the joy Christ wants us to have as we look forward with childlike anticipation to His birthday.
To order this downloadable booklet, visit culture-of-life-studies.myshopify.com/products/waiting-for-christ-with-joyful-anticipation-2021.