If Only Granny Were a Wild Animal!
April 24, 2015
If Granny were living in a civilized country rather than one that is hell-bent on ending lives and calling it a "choice," there would be no need for such a provocative title. But this is America, friends, and many in our midst see things differently. Or maybe they just don't see at all.
It becomes clearer every day that if Granny were not a human being, her chances of being protected from evil acts designed to take her life would be far better. Allow me to explain.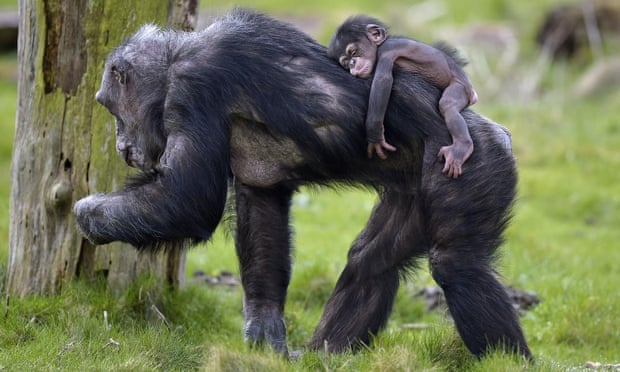 In New York, Hercules and Leo have been given approval by a judge to defend their rights against those who want to use them in medical experiments and detain them against their will.
Who are Hercules and Leo? They are chimpanzees living at a NY university! The human beings involved with the Nonhuman Rights Project brought the chimps' case to the court's attention. As a result, Manhattan Supreme Court justice Barbara Jaffe "ordered Samuel Stanley Jr., the president of Stony Brook, to argue before the court why the chimpanzees were being 'unlawfully detained' at his university and should not be transferred to a primate sanctuary in Florida." Stony Brook, part of the State University of New York system, is not making a comment until the full case is heard in court.
But the point here is that these two animals are just that—animals! They are not human beings and yet their animal rights are about to be protected by law. Humans, on the other hand, are having a greater amount of difficulty acquiring defense of their human rights than ever before.
One of the reasons for this is the move toward legally protected physician-assisted suicide in every state in our nation. In February of this year, the pro-euthanasia group Compassion & Choices reported that 26 states in America were considering some type of law that would decriminalize assisted suicide.
In California, where an assisted suicide proposal is being hotly debated, one newspaper headline reads, "State Should OK End of Life Option Act." The Death with Dignity National Center, located in California, joined the celebration over this act being introduced, opining, "The Golden State has always been a leader in progressive policy reforms protecting individual rights."
Such organizations argue that they are striving to protect patients' "end of life autonomy," but as Saint John Paul II taught in The Splendor of Truth, "Man's genuine moral autonomy in no way means the rejection but rather the acceptance of the moral law. . . . Human freedom and God's law meet and are called to intersect, in the sense of man's free obedience to God and of God's completely gratuitous benevolence towards man."
Autonomy has nothing to do with the right to choose death for anyone, including one's self. And that is a fact.
So we have to ask how it is that the chimpanzees Hercules and Leo will have their day in court, but Granny can feel free to either exit on her own terms or wait for a doctor or nurse to authorize her death because she signed a form allowing others to make life and death decisions for her. Human beings are expendable; chimpanzees are not? Something is incredibly wrong with this picture.
Get involved! The life you save may well be your own.
Pray for moral sanity to be restored in our nation; pray for those at risk of imposed death from creation to death.
Learn what it means to make proper decisions for yourself and your loved ones, for nobody can avoid dying. We should all be prepared to go, but only when God calls us home.
Sign a Loving Will and make sure those you care about have taken this small step to ensure their safety when the end of life draws near.
Be a voice for those who cannot defend themselves.
Babies Twisting in the Wind
April 21, 2015
The phrase "twisting in the wind" is an idiom that frequently refers to those "abandoned to a bad situation."
There are countless preborn children who fit that definition perfectly; they are victims of politics, tolerance, and so much more.
In case there is some doubt about this, examining recent headlines and responses from pro-life folks regarding abuses perpetrated against the human person gives us some insight.
For example, Arthur Caplan, PhD, who is one of the creators of the bogus bioethics field, has argued that there really is nothing to be concerned about simply because a baby has "three biological parents." His argument is that there's nothing wrong with taking the chance by using a technique that might fix a terrible disease—even if risks are involved.
Oh my! I scoured top headlines from around our pro-life community to discern if anyone was using this story as an example of the reasons why in vitro fertilization is a practice that never should have been begun and must be ended. While American Life League has consistently taken this position, few appear to concur.
And what about the problematic nature of the birth control pill, most recently tied to the possibility of shrinking the brain of those who use the chemicals to avoid having a baby? Logically, the birth control pill is pollution of the human body ingested for the primary purpose of avoiding the responsibility of accepting a child created during a sexual encounter. In other words, the pill is a recreational drug.
But at the core of these arguments against the pill is the fact that birth control pills can and do abort babies by interfering with their ability to implant in their mother's womb, thus causing the baby to die of starvation. That is abortion.
Again, where is pro-life opposition to the pill? Well, politicians do not want to talk about it, so many pro-life groups follow their lead. It's sort of like the blind leading the blind. But where are they all heading?
Fox News reports that, in Kansas, "Gov. Sam Brownback has signed a bill making his state the first in the nation to ban a controversial second-trimester abortion procedure that critics describe as dismembering a fetus." The problem with this report is that it is blatantly false. The law in question does not "ban," but rather regulates which babies can be legally dismembered and which can still be killed. The law has an exception permitting the act if the mother's life or a major bodily function is jeopardized.
We could say the law is nothing more than a political sop, but let's be honest. A major national right to life organization wrote the law!
So what's my point? It is as plain as the nose on your face.
If the entirety of the pro-life movement, including the so-called personhood groups, ever really wants to end all manner of killing innocent individuals from creation to death, then it must unite around the principle that no innocent human being can ever be left behind. Whether that individual is created in a test tube, living in his mother and travelling to the uterine lining, or growing inside the womb of his mother, each is precious and each must be INcluded in our efforts. Not a one of them should be EXcluded.
Until such time as we unite in our call for respecting the dignity of every one of these vulnerable human beings, we will continue to falter and be prey to the political whims of those in charge of partisan agendas. It is just that simple.
Never leave an innocent person twisting in the wind. Someday it might be your life being abandoned because you are in a nursing home, on disability, or suffering a dreaded disease.
Do not stand idly by and watch as things happen in the world around you. Take some action:
Learn the truth about the humanity of the person from creation.
Use resources from American Life League to share the truth with family, friends, pastors, coworkers, and those who think they support aborting human persons.
Find out about our American Life League Culture of Life Studies Program and how you can teach children early on that "life is precious."
Making Babies without God
April 17, 2015
Catholic bishops in Poland do not mince words when it comes to sending a clear message on a subject as fundamental to Catholic teaching as the practice of making babies by artificial methods. Recently, when Polish lawmakers chose to debate a proposal regarding this matter, "the Polish bishops conference issued a strong statement on the moral dangers of artificial procreation techniques like in vitro fertilization and so-called 'surrogacy.'"
Poland's Catholic bishops pointed out that good can never be achieved by using evil means. According to LifeSiteNews, "The bishops called politicians to 'fidelity to Christ and the teaching of the Catholic Church,' and added that 'in matters of faith and morals, there is no question of any compromise.'" By contrast, in the United States, we dare say few Catholics realize that the Catholic Church is even opposed to IVF or surrogacy. Surely the bishops are aware that in vitro fertilization produces the embryos that are implanted into a surrogate. And surely the bishops should feel compelled to instruct the faithful that no Catholic can be involved in any way with IVF, including surrogacy or other evil methods resulting from this procedure.
Since this has not been the practice of many American bishops and priests over the past 35 years and counting, it is high time they started picking up the slack. Cardinal Timothy Dolan himself admitted on Meet the Press in 2013 that, in his nearly 37 years as a priest, he has NEVER preached on these matters. Why not?
Isn't teaching truth obligatory for ordained Catholic priests?
Today's headlines make it abundantly clear that the hour is late and the bishops are falling way behind in their obligation to protect the faithful from the devil and his cronies.
Just think about a few recent headlines. These should jar even the apathetic into some sort of cognizance regarding the disconnect between right reason and clinical practices. This headline: "Surrogacy firms are selling 'extra' babies on the black market to the highest bidder" is just one such shocker among many. We also learn that, in some countries, parents travel to distant places so they can buy female ova in order to satiate their desire for a child of their own: "In countries where ova sale is prohibited, hormones may be administered in the home country to the women who are then flown to a second country where their eggs are harvested, fertilized, and inserted in the receiving woman's uterus."
Then we hear tragic stories as well, including one about a 13-year-old Indian girl who was sold into slavery and then forced by human traffickers to act as a surrogate mother and deliver six children. Sadly, this story went largely unnoticed by mainstream media. And, while the United States Conference of Catholic Bishops makes statements in opposition to "human trafficking," it has not weighed in on the case of this Indian girl or countless other reports of human trafficking involving surrogacy.
Practices of evil like these have no boundaries unless moral lines are drawn in the cultural sand. And if the Catholic hierarchy is not leading this effort by drawing those lines, who will?
Let's draw a word picture that defines the situation today.
It all started with in vitro fertilization—a practice honed and perfected to a certain degree by biologist Robert Edwards and Patrick Steptoe, M.D. Their success led to, among other things, a Nobel Peace Prize, even though their "science" opened a huge can of worms. IVF led to surrogate motherhood, of course, as every IVF process results in extra embryos that are tested for possible defects and then either frozen, tossed, or used in some sort of experiment. Alternatively, extra embryos can be implanted in a woman who will carry someone else's child until birth occurs.
Today, surrogacy has become mainstreamed and has even been the plot of comedy shows on television—one more example of media hype geared to normalize the adoption of children by same sex couples and to treat babies as a commodity that can be purchased at will. However, none of this justifies IVF—a practice that makes babies without God.
In addition to staying close to God in prayer, we must educate, not only ourselves, but our family and friends as well. Below are some ways to do these things:
LEARN MORE:
Read Catholic teaching, specifically Donum Vitae, so that you understand the reasons why in vitro fertilization and its progeny are fundamental requisites of the culture of death's agenda.
UNDERSTAND THIS ABOUT INFERTILITY:
"Anyone who has faced the cross of infertility, endured a miscarriage, or suffered through a stillbirth knows firsthand the kind of suffering endured in these most difficult moments of life. Having recently borne one of these crosses, I know the value of compassion, support, and prayers offered by loved ones and strangers alike. But I also know how vital it is to respond to the cross we bear in a way that is in accord with human nature, honors marriage, and respects the rights and dignity of children." – Arland Nichols, founding president of the John Paul II Foundation for Life and Family.
TAKE ACTION:
Ask your bishop and your priest to start teaching the fundamental doctrines related to the procreation of children within marriage versus the evil actions advocated by those who promote IVF.

PRAY:
Recite the Mary, Undoer of Knots Novena for the intentions of American Catholic bishops.
Men for All Seasons
April 14, 2015
Controversy appears to have adopted a different framework, and we now have a new adaptation of what it means to be outside the mainstream.
I am referring to San Francisco's archbishop, Salvatore Cordileone, and the Diocese of Cleveland's bishop, Richard Lennon. Both of these prelates have not really taken steps that should be headliners, yet for some devilish reason they are. What in the world have these men done? Well, they have restated the teachings of the Catholic Church that date back to the time of Jesus Christ Himself and have stated that they expect those employed by the Church to follow them. Recently, Cordileone revamped the high school faculty handbook and has called on faculty "to avoid publicly challenging the Church's position on issues like same-sex 'marriage' and abortion."
No sooner was the ink dry than the protests began. Still, two months later, they have not leveled off. So what's the beef? Teachers—and others who support them—do not want to uphold Catholic teaching that touches on subjects with which they disagree. As one lesbian Catholic told the San Francisco Chronicle, "I can be a Catholic and a follower of Jesus without accepting what the hierarchy says, but accepting what I think Jesus would have said."
Oops! Not so! Catholic teaching is not based on what someone else's opinion might be, but on the solid body of teachings and doctrine found in scripture and in Catholic tradition.
But that doesn't seem to matter in today's world. And that is why I think Bishop Lennon may suffer the same sort of public denunciation for his expectations of teachers. One local newspaper listed the bishop's "banned behaviors," which include "publicly supporting abortion, euthanasia, assisted suicide, embryonic stem cell research, in vitro fertilization, artificial insemination, surrogate parenthood, direct sterilization, or so-called homosexual or same-sex marriage or unions." Among the others are having an abortion, helping someone else have an abortion, promoting sex outside of marriage, and drug abuse. The outcry to his proposals has been more than a little absurd, given that Lennon is doing nothing other than respecting the Church and expecting teachers to do likewise.
Witnessing such fearless defense of truth in our upside-down world makes me wonder what it is going to take for the entire body of Catholic bishops to begin issuing demands of their priests that the fullness of truth be taught from the pulpits. After all, there is a crisis involving lack of respect for Christ and for the human person. This ridicule of truth is raging in our world and it shows no signs of lessening.
Each and every bishop must understand that these gruesome manifestations of America's sexually saturated society foster and encourage a mentality that makes it fashionable to attack Catholic prelates who are living, teaching, and preaching Catholic doctrine.
This brings us to the $64,000 question: Where is the public statement from the United States Conference of Catholic Bishops expressing solidarity with and support for Bishop Lennon and Archbishop Cordileone? Is courage lacking, or is human respect more appealing at the USCCB? We do not know, but we see publicly that in the bishops' collective silence resides the reasons why so many Catholics-in-name-only attack priests, bishops, and the Lord Himself with impunity.
We at American Life League salute the bravery of Archbishop Cordileone and Bishop Lennon and the others who have defended truth and not backed down. Praise God for them! Such men of God are living examples of the original "man for all seasons," St. Thomas More, who said, "You must not abandon ship in a storm because you cannot control the winds."
Show your support for these bishops by taking action. Sign the petition in support of Archbishop Cordileone and send letters of gratitude to Bishop Richard Lennon. We must let them know that we value them and all that they teach, even in the face of adversity.
Catholic Bishops Who Dishearten
April 10, 2015
Catholic leadership often creates a level of discomfort among those of us who believe that today's culture wars require saints and martyrs rather than politicians masquerading as bishops and priests.
Most recently a couple of news items illustrate my point quite vividly.
First, there's the Marathon Bomber, Dzhokhar Tsarnaev, who is on trial for the April 2013 bombing that killed three and injured more than 200 near the finish line of the Boston Marathon. As the jurors grapple with the sentencing question, the Catholic bishops of Massachusetts have issued a joint statement opposing the use of the death penalty in this case. In this statement, they cite Pope Francis: "Today the death penalty is inadmissible, no matter how serious the crime of the condemned. It is an offense against the inviolability of life and the dignity of the human person that contradicts God's plan for man and society and His merciful justice, and it impedes fulfilling the just end of the punishments. It does not do justice to the victims, but foments vengeance."
Contrary to the pope's view on capital punishment, Catholic teaching on the death penalty does not raise the use of capital punishment to the level of an intrinsic evil. However, Catholic teaching does define every act of procured abortion as intrinsically evil. So we wonder why the Massachusetts Catholic bishops have chosen to defend a terrorist's right to life while saying little about the fact that, every 20 seconds in this nation, an innocent baby is aborted.
Then there's the case of the Catholic theology teacher at Immaculata High School in New Jersey whose Facebook post condemning same-sex marriage garnered her national attention and a not-so-pleasant response from her bishop. Bishop Paul G. Bootkoski told the press that the teacher in question, Patricia Jannuzzi, had been put on administrative leave following outrage about her post from the homosexual community and certain Catholics. In response, we said in a prepared statement, "It is disingenuous of the bishop to publicly cite the Church's call for acceptance of the sinful individual without, at the same time, reminding the sinner of the Church's expectation in his or her life. Such an omission will, and has, caused confusion on the true Catholic teaching regarding the homosexual lifestyle."
Yet the bishop has persisted in catering to the public rather than Catholic teaching.
With all due respect to the office of bishop, we wonder why a Catholic bishop would suggest that a moral theology teacher's comments defending Catholic teaching on the practice of homosexuality "were disturbing and do not reflect the Church's teachings of acceptance." We were not aware that the Catholic Church had an official teaching on the acceptance of sin, Your Excellency. Apparently we missed that chapter in whatever text it is you are using as the basis of your comment.
While we do not know the fate of Patricia Jannuzzi regarding her future employment or ultimate termination, we do see a thread that weaves its way through stories like those where we find Catholic shepherds defending convicted murderers and defaming faithful Catholic teachers. It is thread of distortion, deception, and political posturing.
We must ask the obvious then. Why are certain Catholic bishops so very unfamiliar with the natural law and why do they act in ways that defy it? Is it painfully difficult to define sin as an offense against God or is the popular practice to dance around the truth and misguide souls in ways that can lead to hell?
Let us reflect upon what St. Thomas Aquinas taught about the natural law: "The natural law is nothing other than the light of understanding placed in us by God; through it we know what we must do and what we must avoid. God has given this light or law at the creation."
We hope and pray that Catholic bishops, in particular those noted here, will take a moment to familiarize themselves with the natural law before making further public proclamations that confuse, dishearten, and alienate the faithful.
Defending truth and life is hard enough! We would really prefer not to have to battle Catholic bishops too!
Christ admonishes us: "You will be hated by all men on account of my name, but the man who stands firm to the end will be saved" (Matthew 10:22). Please join me in praying for these bishops and in writing a kind letter to each urging them to stand firm, as Christ encourages us all to do.
Cardinal Seán P. O'Malley, OFM, Cap.
Archbishop, Archdiocese of Boston
66 Brooks Drive
Braintree, MA 02184
617-782-2544
Most Reverend Edgar M. da Cunha, S.D.V.
Bishop, Diocese of Fall River
47 Underwood Street, P.O. Box 2577
Fall River, MA 02722
508-675-1311
Most Reverend Mitchell T. Rozanski
Bishop, Diocese of Springfield
PO Box 1730
Springfield, MA 01102
413-732-3175
800-854-0003
Most Reverend Robert J. McManus
Bishop, Diocese of Worcester
One Cathedral Square
Providence, Rhode Island 02903
401-278-4500
Bishop Paul G. Bootkoski
Bishop, Diocese of Metuchen
146 Metlars Lane
Piscataway, NJ 08854
732-562-1990